These pizza pastry puffs are so good and perfect for a quick meal. Using simple, high quality ingredients, the family will love these treats!
Pizza Pastry Puffs
Lately we have been getting super creative with food. The kids favorite thing is pizza (and honestly ours is too) so I've been trying to find different ways to make it for them!
So I figured why not combine two of my favorite things! Pastry Puffs and Pizza. I am a big fan of pastry puffs because I love the flaky taste and honestly I've never had a bad pastry puff experience.
I shared these Easy Pizza Egg Rolls a few weeks ago and they are SOO good. Plus I've shared Pizza done easy in the Air Fryer! This Thin Crust Pizza from scratch is a forever favorite, but man, these pizza pastry puffs are so darn good!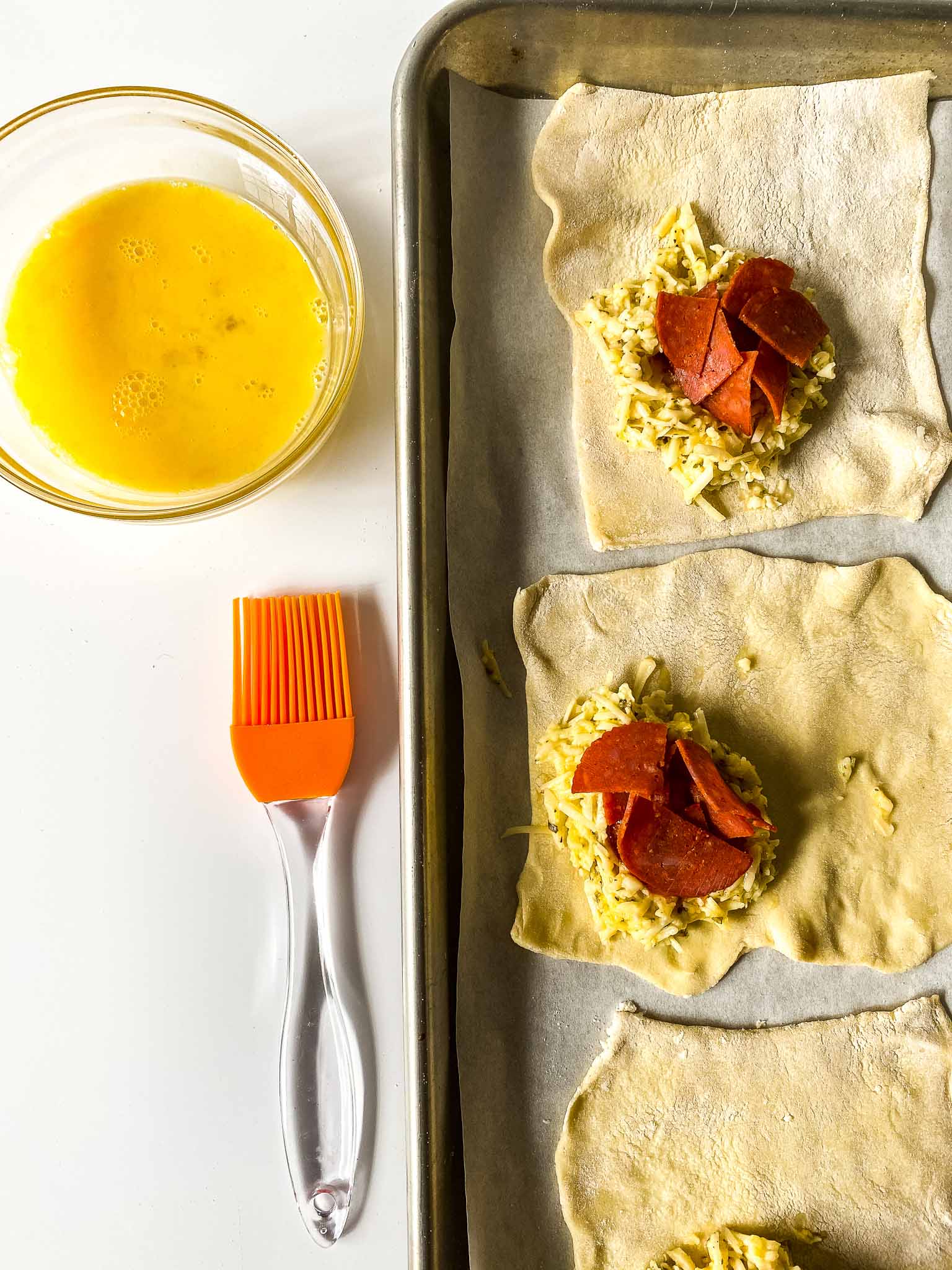 What ingredients are in these Pizza Pastry Puffs?
puff pastry
shredded mozzarella cheese 1⁄2 cup grated parmesan
eggs
All-purpose flour
oregano
Italian seasoning
salt
pepper
pizza sauce
pepperonis quartered
What tools do I need to make these Pizza Puffs?
You will need a Medium sized bowl, Rolling Pin, Baking Sheet and Parchment Paper Knife or Pizza Cutter
When should I serve these pizza turnovers?
Game day is a really great option, these are super easy to make and can be considered a finger food. Any occasion with kids, birthday parties etc. Or simply even just for a quick no fuss lunch or dinner.
Yield:

6-8 servings
Easy Pizza Pastry Puffs
These easy pizza pastry puffs are so great for anytime snacks or a meal!
Ingredients
1 puff pastry
1 cup shredded mozzarella cheese 1⁄2 cup grated parmesan
2 eggs
2 tbsp All-purpose flour
1 tsp oregano
1 tsp Italian seasoning
1⁄2 tsp salt
1⁄2 tsp pepper
1⁄2 cup pizza sauce
15 pepperonis quartered
Instructions
Gather all ingredients and line a baking sheet with parchment paper.
In a medium sized bowl combine one egg, seasonings, 2 tbsp flour, mozzarella, and parmesan and set aside.
Flour your work surface.

Remove 1 sheet of puff pastry from the pack (they usually come 2 in a pack). Roll out the puff pastry evenly, this step is to thin out the dough.
Cut into 6 squares using a sharp knife or pizza cutter.
Place a spoonful of the cheese mixture in the center of one corner of the puff pastry square, leaving enough space to crimp the edges closed.
Complete for all 6 squares.

Prepare an egg wash with the remaining egg and 1 tbsp water.

Lightly brush egg wash around the edges around the side where the cheese mixture has been placed. Fold over the dough and crimp together with a fork.

Brush the top of each triangle with egg wash and chill for 10-15 mins before baking.

Preheat the oven to 375

Remove tray from fridge and bake for 30 mins.

Serve with pizza sauce.
Notes
Take extra care to not allow the puff pastry to dry out. If working in an extremely hot kitchen it may be helpful to place a damp towel or paper towels over the exposed puff pastry. It will be easier to work with a cold puff pastry than a warm one, so do not remove it from the fridge until you are ready to roll it out. 

If you liked these easy Pizza Pastry Puffs be sure to check out these fun recipes:
Easy Lunch Ideas: Roasted Chicken Salad Croissants
10 Nut Free and Sandwich Free Lunch Box Ideas For Kids
Amazing Leftover Turkey Sliders
Easy Jack O' Lantern Halloween Quesadillas
Easy KFC Style Air Fryer Potato Wedges