Orangetheory Fitness is the most intense (and fun!) workout EVER and here's why!
A few days ago I got the opportunity to finally try Orangetheory Fitness in Williamsburg Brooklyn. The workout has been all the rage among my fitness friends, and I've always been super curious about how these classes work and what is all the rage?
I gathered two of my favorite NYC Blogger girls so we could make it a fun time. Plus, it is a lot easier to to do hard workouts when you have your friends around!
What is Orangetheory Fitness?
It is a heart-rate monitored, high-intensity workout is scientifically designed to keep heart rates in a target zone that spikes metabolism and increases energy. They call it the afterburn.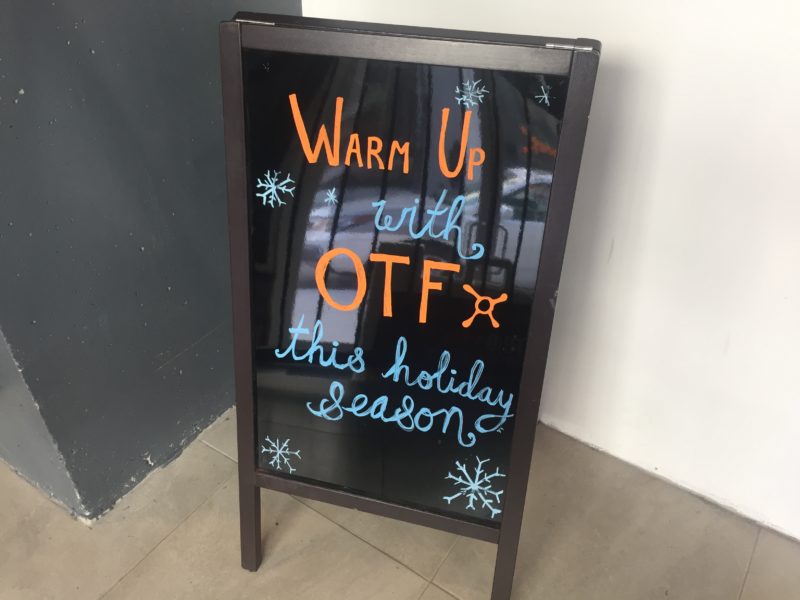 I went to the Williamsburg location which is right on the tip of Brooklyn and reasonably close to Queens and just one train stop away from Manhattan. The location was gorgeous. The decor and vibe of the facility was really nice!
Once we got in, we were introduced to Corey our trainer for the day and given specific heart rate monitors that were individually assigned to all of us. Your actual heart rate, calories and heart rate zone was put on a big monitor in the room along with your class members so you can see how hard you are working at all times.
Before the class we got introduced to all of the equipment including the specially designed treadmills and rowing machines (with actual water in them!). Right after our quick intro, we were ready for class. The rest of the class members joined us and we were ready to work! I had no idea what I was getting into, but I would find out really quickly!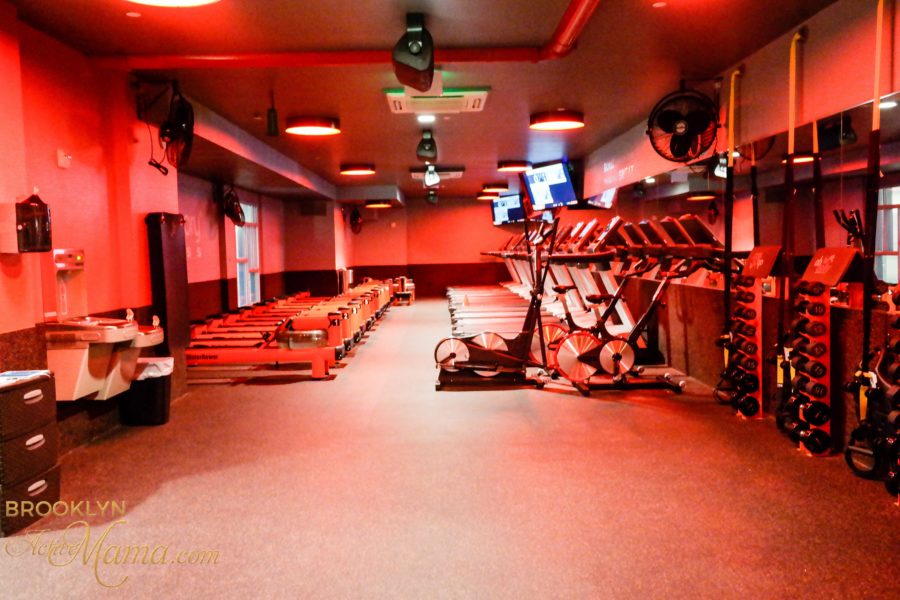 The Orange Theory Fitness Brooklyn Workout
The first thing we did was jump on the treadmill for a few sprint intervals. We had a base speed–what your regular running pace is–and a turn up speed of 1.0 – 2.0 mph faster than the base. We varied between then two and pushed the incline higher than I've ever pushed before. Most of the time we were running on 4-6% incline! I never thought I could actually do that but there I was, doing it!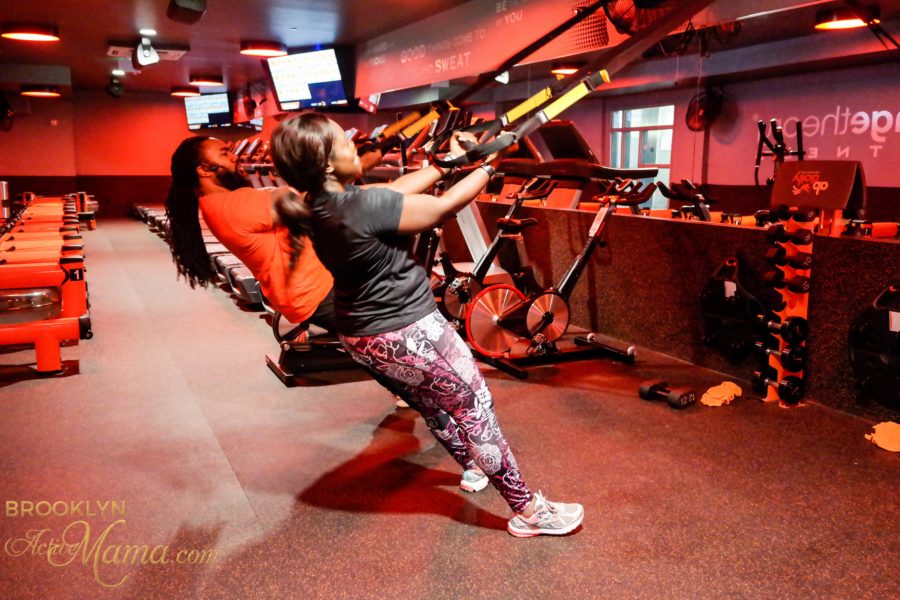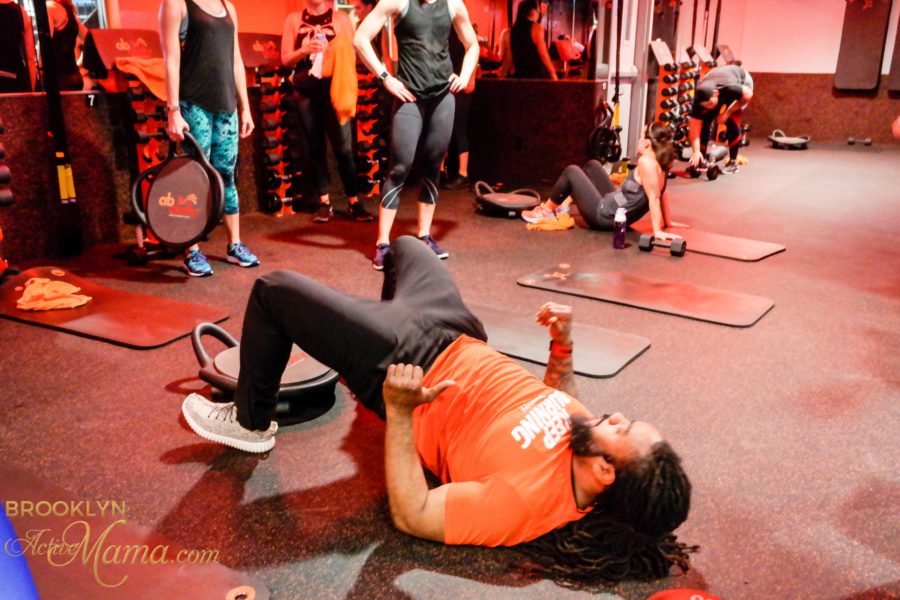 After the treadmill there was no time time to catch our breath as we went straight into deadlifts, TRX training and abs–once we completed two full sets we pushed right into getting on the row machine for 200 quick meters, then back to strength training and BACK on the treadmill again! It was crazy!!
Overall Thoughts
As crazy intense as it all was, I had a really good time. I never would have run max speed on a six percent incline–like that is something I'd NEVER make myself do! Our trainer Corey had the BEST music! He played everything from rock to some amazing throwback Notorious B.I.G. which helped me through the entire second treadmill interval. The facility is huge so all 12-13 of us were able to get our own individual machines. The towels were complimentary and it was really awesome to see how much work was done on the big board of results.
The Orangetheory Fitness Brooklyn location even has a cute promo going $99 for four classes and it comes with a really cute hoodie!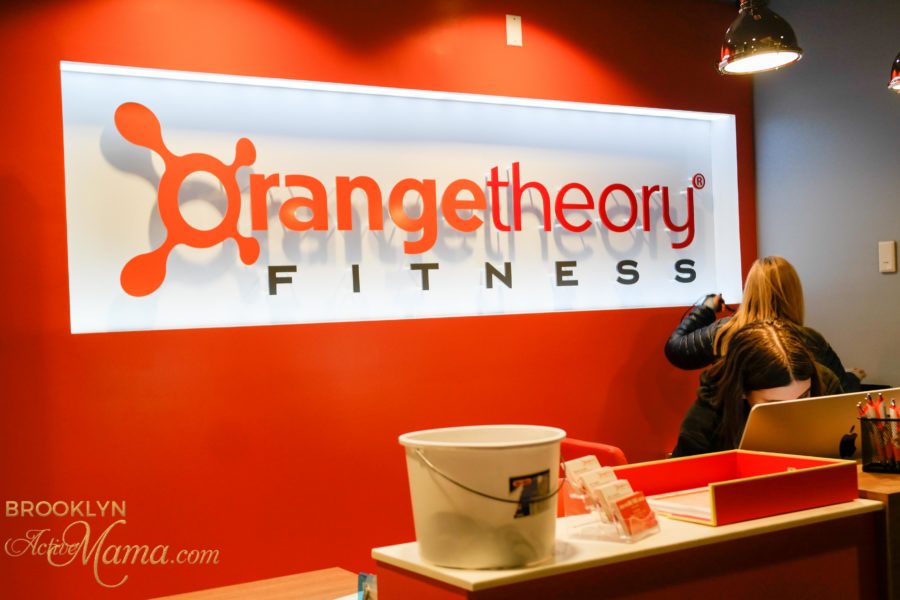 Thank you to the Orangetheory Fitness Brooklyn team for such a fun and intense workout! I can't wait to go back!
Why the @OTheoryFitness Class in #Williamsburg #Brooklyn is the BEST Fitness class in NYC! #OrangeTheory #Fitness #ad

Have you tried an Orangetheory fitness class? When is the last time you took interval training?
Hi! I'm Nellie. I am a busy mama of three, wife to my high school sweetheart who loves to cook, workout and stay organized! I love to share helpful printables, the best recipes and fitness tips for the modern mom. I strongly believe that every mom can feed their family well, take proper care of themselves and have fun along the way! Read my story.
Get comfortable and be sure to come hang out with me on social. Don't grab your free fitness journal before you go!