So I know I say this pretty much all the time, but this MAY be the coolest thing I've ever done as a blogger. Really.
Okay at LEAST top five!
I was invited to the NFL offices to check out the new line of women's fashion for the upcoming season and I seriously almost broke a nail trying to reply YES as quickly as possible. The NFL super fan inside of me is here waiting patiently until I can watch football from 1-11pm every Sunday. The one that takes her tablet in the kitchen so that I can watch the game while I cook meals for the week? Yes. You can safely say yes. Champion of her Fantasy Football league last year? Yes, you can safely say I will be there.
When I arrived I had to take a deep breath and gather myself, because I am a professional. That lasted for exactly six seconds as I shared my giddy excitement with every NFL staff member I came across. It's a miracle I didn't selfie everything and everyone in there.
NFL Women's Fashion
When it comes to dressing up for games, I am more of a girl who will wear a oversized men's jersey or like a tee. I am happy to say that we now have a TON more choices. Really cute and sexy tops that have you looking SUPER cute while still representing for your team.
Plus everyday tops including gorgeous plaid tops that were cute for weekend wear or just lounging around the house.
NFL Women's Accessories
Can we chat about how amazing these accessories are? We already know that I am a huge Dooney & Bourke fan, so when I saw these gorgeous purses I was all the way infatuated.
The Alex and Ani bracelets, again, I've chatted before about my Alex & Ani obsession so Seeing my favorite teams bracelets was just…sigh. (Dear Husband, if you are reading this we have an anniversary in less than two weeks–HINT HINT HINT)
NFL Junior's Collection
The NFL Junior's Collection is also gorgeous and I'm not sure what it says about my own style that I'd totally wear any of these outfits.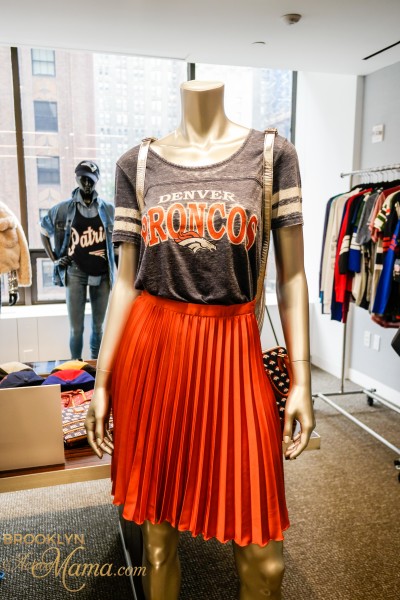 The Tour of the NFL Offices
The folks at the NFL offices were nice enough to give me a full tour of the office. I tried to keep it together as much as I could but it was a failure. I couldn't hide the giddy. Never in my life have I felt like such an uncontrollable dork. The office itself was just so beautifully detailed, I kinda wish that I could decorate my own house just like this.
We went to different floors, that were themed (one for the fan, one for the game, the teams etc). My head nearly exploded (no lie) when I saw the Vince Lombardi trophy up close and personal. I couldn't touch it but man, she was gorgeous. We also got to see every single Super Bowl ring up close and personal, including the most recent Super Bowl 50 ring that was well…blingtastic.
This football fanatic was SO excited to be there and have the experience! For more information and to check out the collection for all ages and genders, check out NFLshop.com.
Hi! I'm Nellie. I am a busy mama of three, wife to my high school sweetheart who loves to cook, workout and stay organized! I love to share helpful printables, the best recipes and fitness tips for the modern mom. I strongly believe that every mom can feed their family well, take proper care of themselves and have fun along the way! Read my story.
Get comfortable and be sure to come hang out with me on social. Don't grab your free fitness journal before you go!