Are you tired of making a mess when preparing dinner? Follow this simple One Pan Honey Garlic Chicken recipe. You'll get to cook a flavorful meal in one skillet, eliminating all the extra dishes, all while still making the perfect dinner for the family.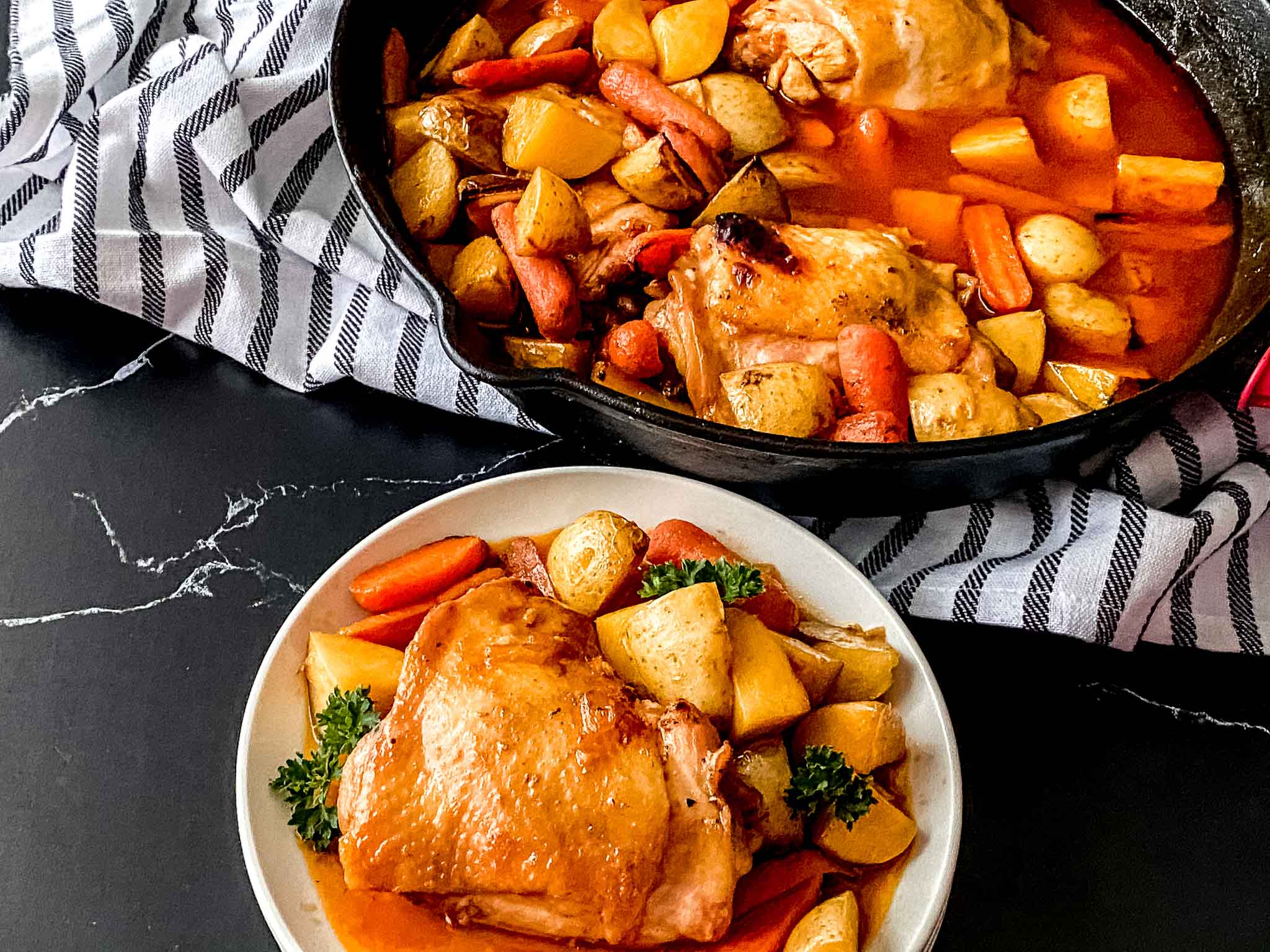 Why Make One Pan Honey Garlic Chicken?
If you're like me, you want to make flavorful meals and super easy recipes for the family. However, you don't want to make a ton of dishes. You'll feel relieved knowing that you can prepare this savory and sweet chicken in a single skillet.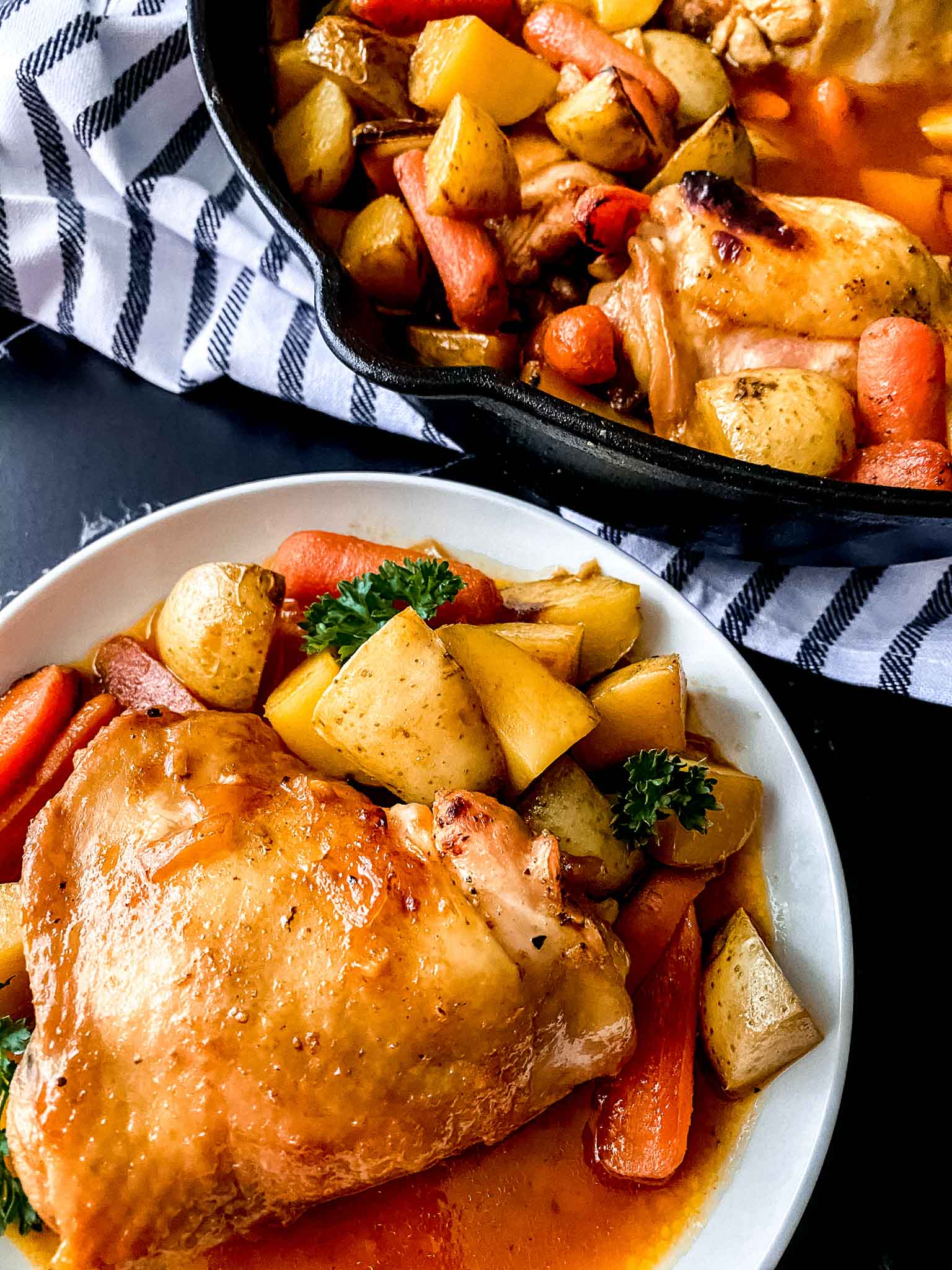 It's a great recipe that will save you some time and energy, allowing you to still put a healthy and delicious meal on the table. If you like the combination of savory and sweet ingredients, this One Pan Honey Garlic Chicken recipe will blow you away. It's genuinely that good!
This delicious recipe can be served with green beans, white rice, sweet potatoes or even cauliflower rice. It is an easy weeknight dinner that you can make in a large skillet. This simple recipe for honey garlic chicken thighs are great for busy weeknights.
Plus I am all about the easy cleanup, using less time to wash multiple pots.
The Best Type of Chicken to Use to Make the Honey Garlic Chicken
When you want to make the most flavorful chicken to eat, it's best to use chicken thighs. The dark meat chicken brings added flavor to the dish.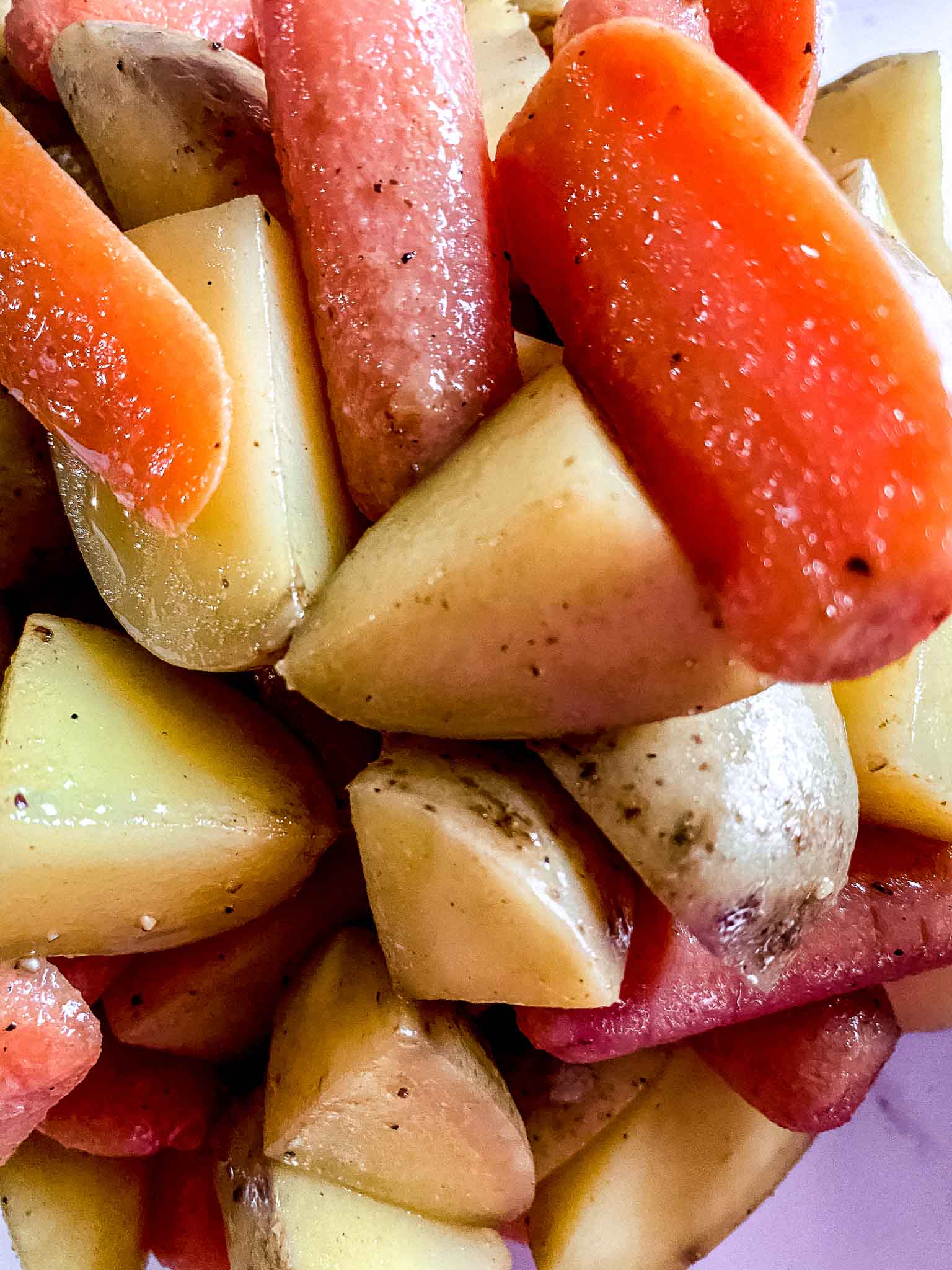 Of course, if you don't have chicken thighs, you can use chicken breast to replace them. If you'd like to make enough chicken to serve four to six people, you'll need to have four chicken thighs or four boneless chicken breasts.
Preparing a Flavorful Sauce to Use on the Chicken
While you may have tasted a honey garlic sauce before, the honey sauce on this chicken has such a unique taste. It consists of chicken broth, soy sauce, honey, and ketchup.
The soy sauce adds a bit of tang, but the honey offers a slight touch of sweetness, both of which taste incredible when combined with the broth and ketchup.
Not only does the sauce taste great, but so does the seasonings you'll use on chicken to give it even more flavor. If you want you can sprinkle with some chopped green onions once you are done.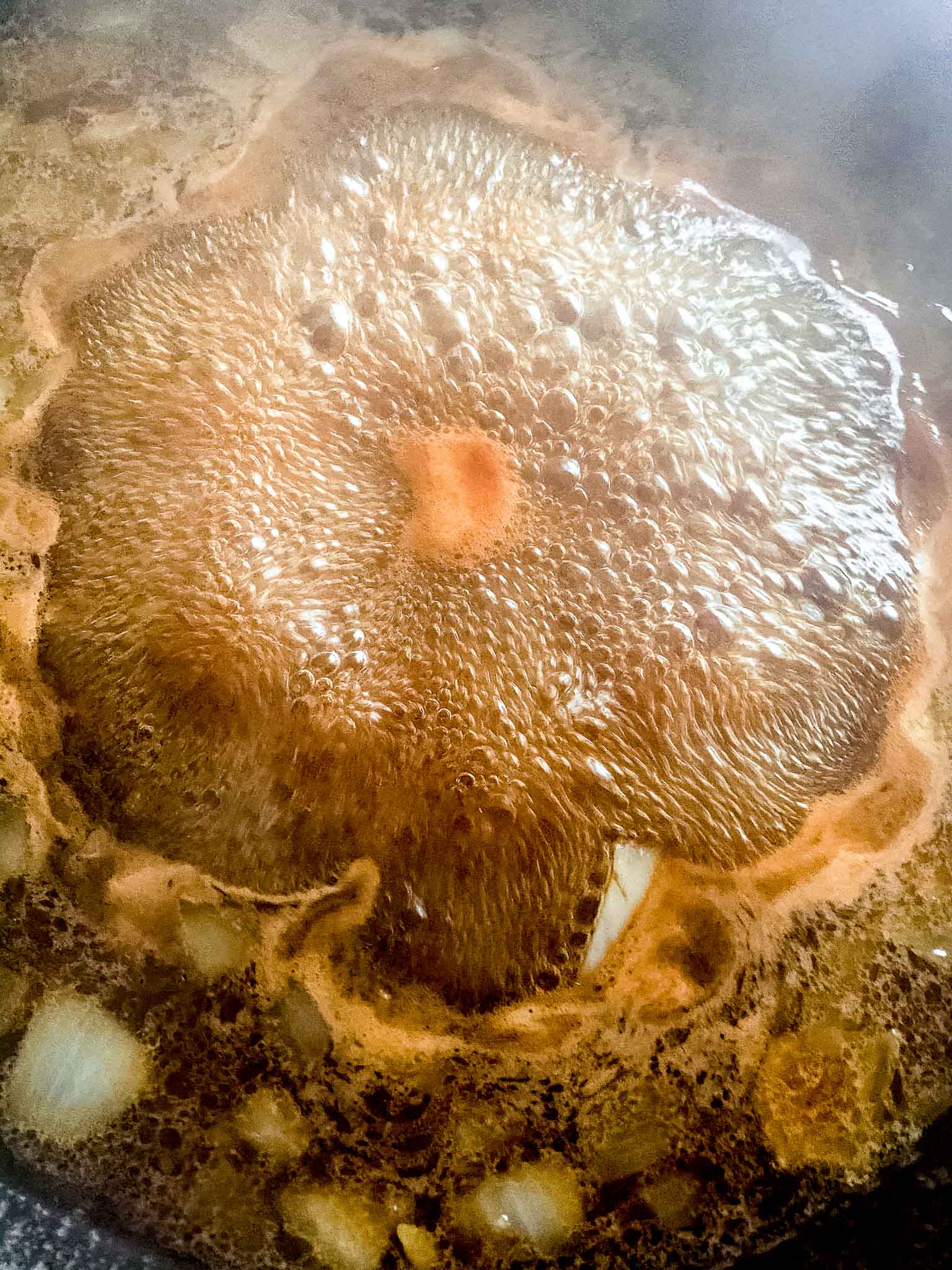 The greatest part about this recipe is the delicious honey garlic sauce. Next time you go to the grocery store be sure to pick up all the ingredients needed for these honey-garlic chicken thighs.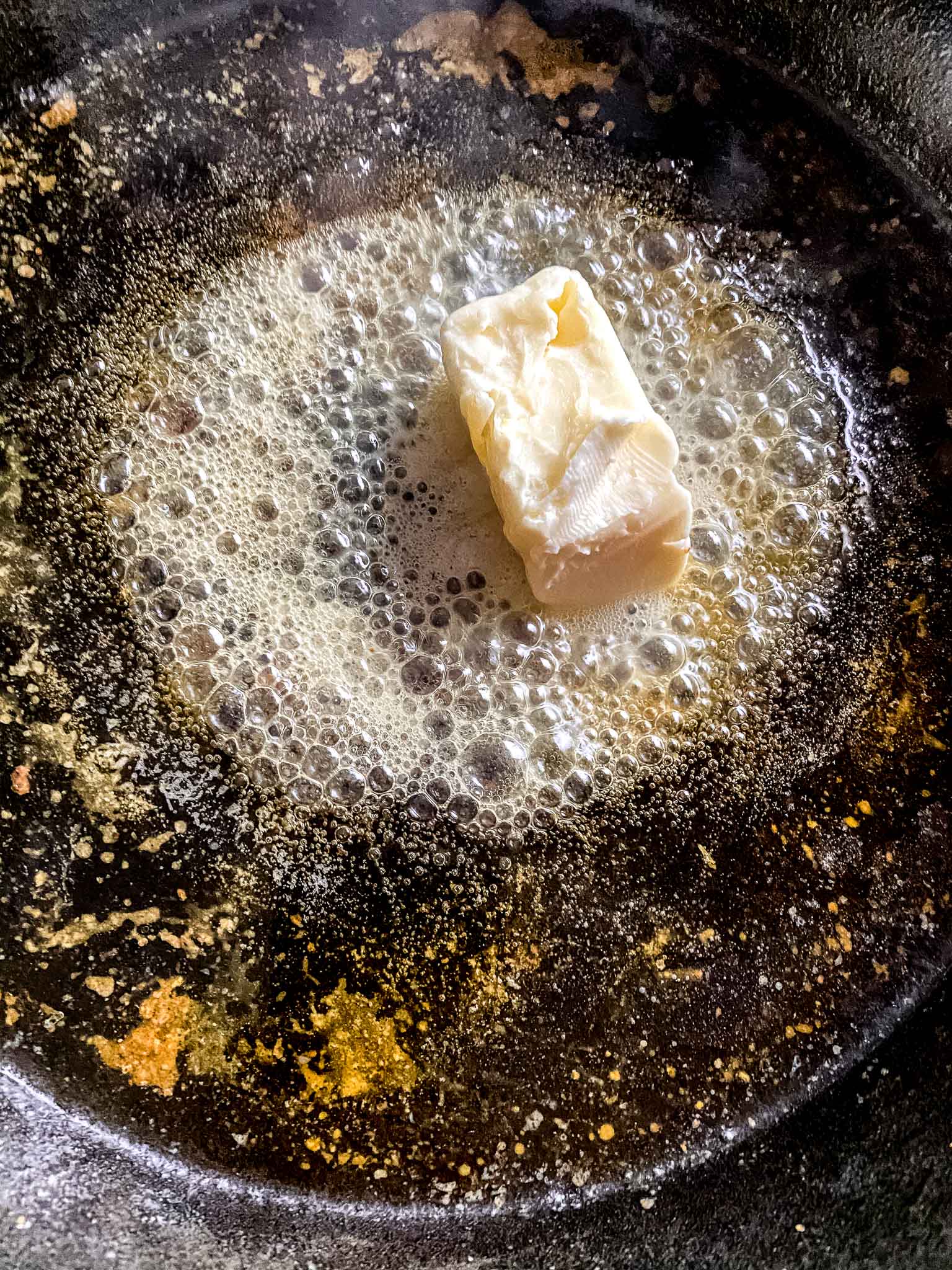 Some recipes call for red chili flakes, chili sauce, tomato paste, and sometimes lemon juice. The great thing about this recipe is that it's awesome for the whole family.
What ingredients are needed for this easy honey garlic chicken recipe?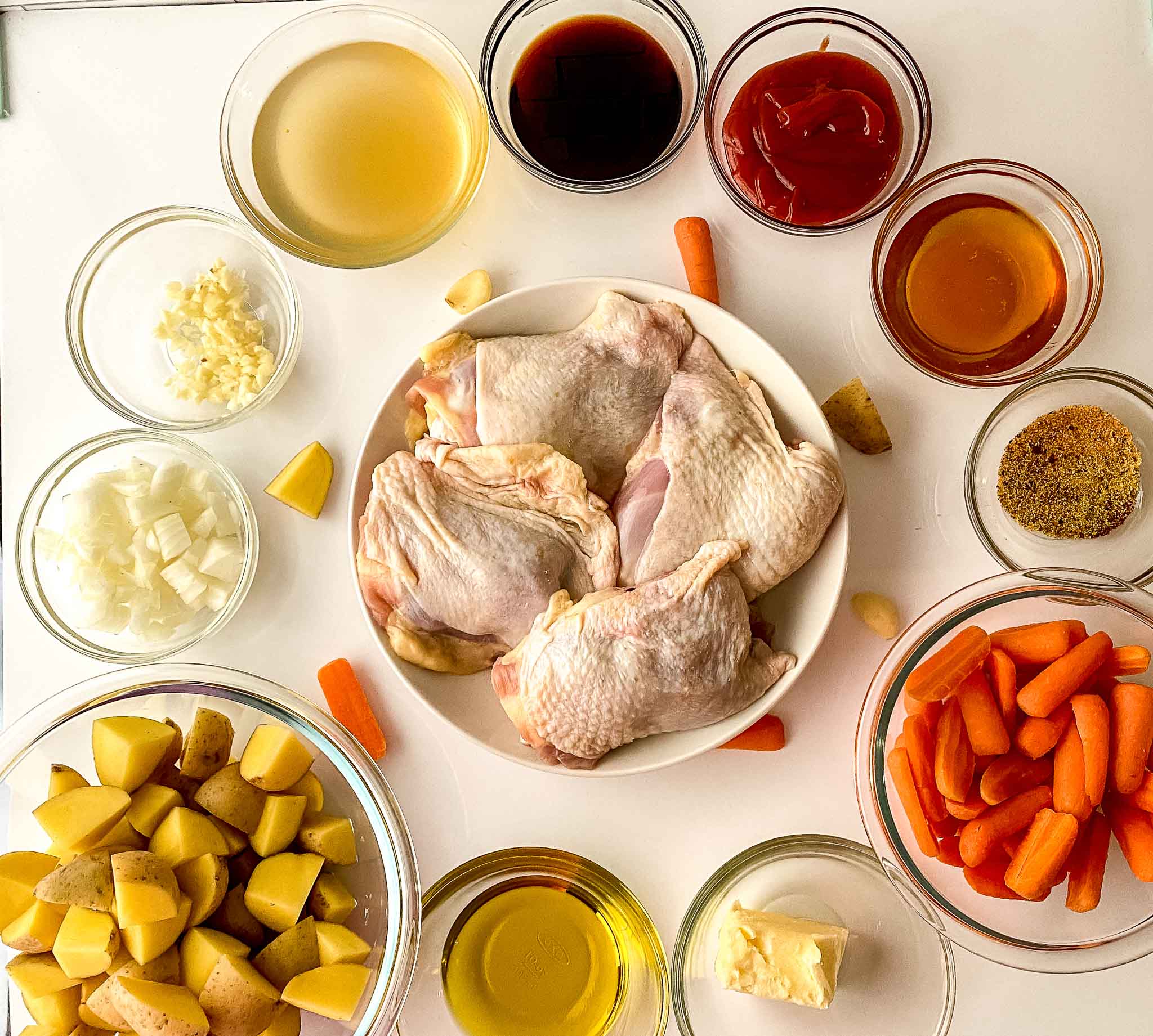 Ingredients
4 chicken thighs
6-8 golden Yukon potatoes
12-15 baby carrots, sliced in half
1 cup chopped onions
1 cup red peppers, optional
4 cloves of garlic, smashed and chopped
1/4 cup butter
1/4 cup olive oil
1 tbsp season salt
1 tsp lemon pepper Seasoning
1 tsp garlic powder
2 tsp black pepper
Sauce
1 cup chicken broth
1/2 cup soy sauce
1/2 cup honey
1/2 cup ketchup
What equipment do I need for this recipe?
Large pan or cast iron skillet
Wooden spoon
This recipe can be made with boneless skinless chicken thighs or chicken thighs with the skin on. Let me know what everyone thinks when you make this chicken dish with this yummy sauce for family dinner!
Yield:

4 servings
Easy One Pan Honey Garlic Chicken Dinner
This easy one pan honey garlic chicken is so good for family dinners! Featuring a yummy sauce that is so full of flavor and delicious!
Ingredients
4 chicken thighs
6-8 golden Yukon potatoes
12-15 baby carrots, sliced in half
1 cup chopped onions
1 cup peppers, optional
4 cloves of garlic, smashed and chopped
1/4 cup butter
1/4 cup olive oil
1 tbsp season salt
1 tsp lemon pepper Seasoning
1 tsp garlic powder
2 tsp black pepper
Sauce
1 cup chicken broth
1/2 cup soy sauce
1/2 cup honey
1/2 cup ketchup
Instructions
Preheat oven to 425

Add oil to cast iron skillet and heat on medium high brown both sides of chicken thighs about 3 to 5 minutes on each side.

Remove chicken from pans and let it sit.
Add butter to pan and let it melt.

Add potatoes and carrots to pan and sauté for 7 to 8 minutes season with salt and pepper, to taste. Remove potatoes and carrots.
Add garlic and onions and sauté for 3 to 4 minutes add in all of the ingredients for the sauce and bring to a boil.

Add the chicken potatoes and carrots back to the pan and bake in oven for 30 minutes

Notes
This dish can be seasoned to your liking. Try adding Cajun spices to the chicken run in the beginning. The combination of sweet and heat will be delicious.
This dish can be done with skin on or skinless chicken thighs 
Nutrition Information
Yield
6
Serving Size
1
Amount Per Serving
Calories

719
Total Fat

30g
Saturated Fat

10g
Trans Fat

0g
Unsaturated Fat

19g
Cholesterol

133mg
Sodium

3173mg
Carbohydrates

90g
Fiber

8g
Sugar

35g
Protein

30g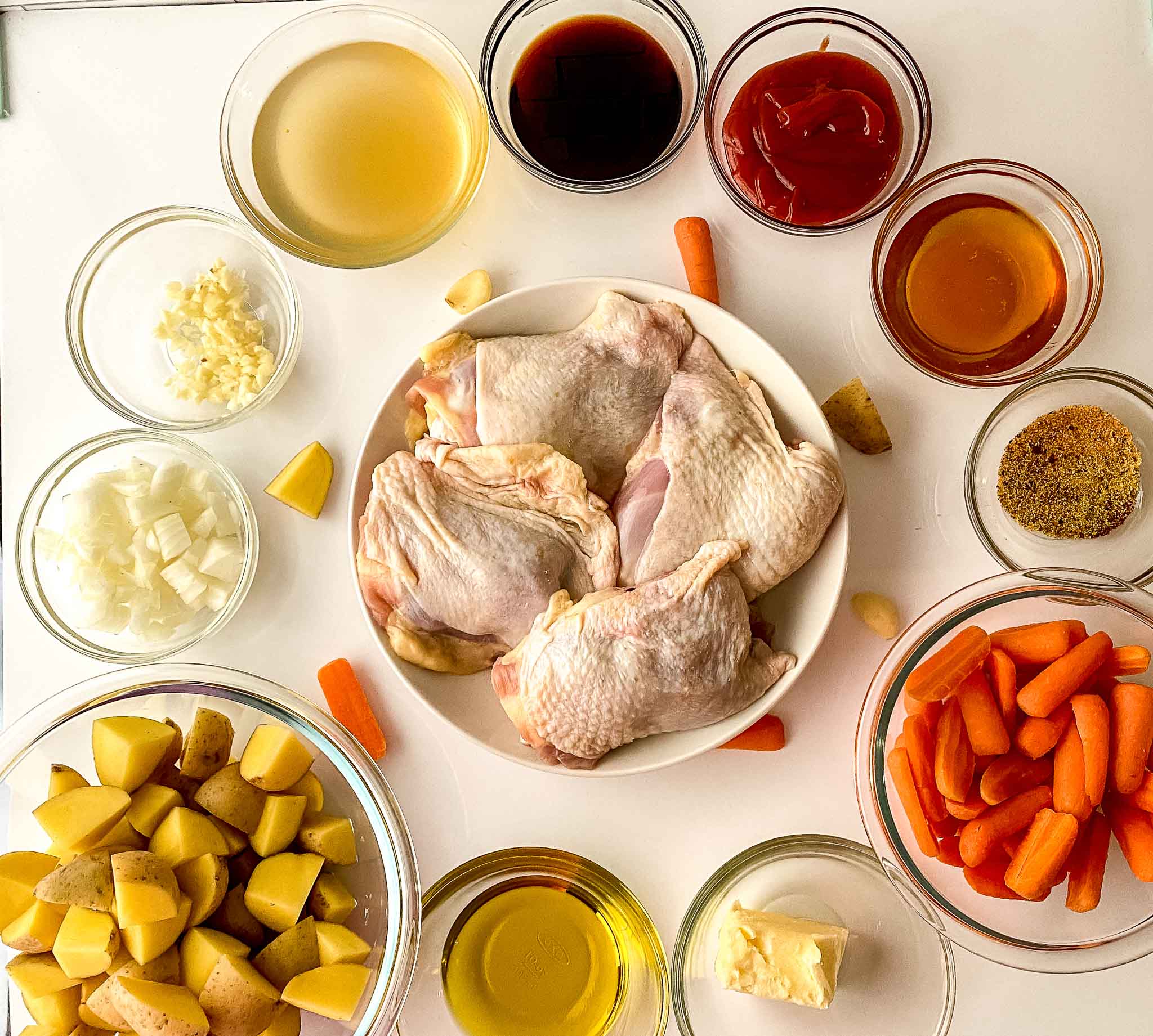 If you enjoyed this recipe be sure to check out these fun recipes too:
The Best Classic Buttermilk Fried Chicken Recipe
Air Fryer Dry Rub Chicken Wings
Easy Homemade Crispy Chicken Tenders
Chicken Wings 3 Ways: Dry Rub, Buffalo & Caribbean Style