A few weeks ago I attended a fitness event at one of my favorite fitness spots in the city 305 Fitness, you might remember that I hosted one of my free fitness events there a few months ago!
This time Secret was hosting an event with Shaun T. I'll be honest, the thought of being 5 months pregnant and working out with the creator of INSANITY scared the living daylights out of me…but when have you ever known me to back down to a challenge? 🙂
Shaun T is my spirit animal
Shaun T is an amazing dude. He has the BEST energy and such a great spirit about him. It's SO easy to see how he has transformed thousands of lives with his incredible fitness videos. You might even be wondering what Shaun T has to do with Secret Deodorant?! He explained to us that he used to steal his grandma's Secret when he was a kid because it was the only thing that kept him fresh! He actually mentioned this in one of his YouTube videos and boom, a partnership was formed!
When I got to 305 fitness, the studio was transformed visually into a place made for Secret. There was product, photo opportunities and so much more, everywhere! It was really cool, and the swag was really nice too. 😉
Working Out With Shaun T 5 Months Pregnant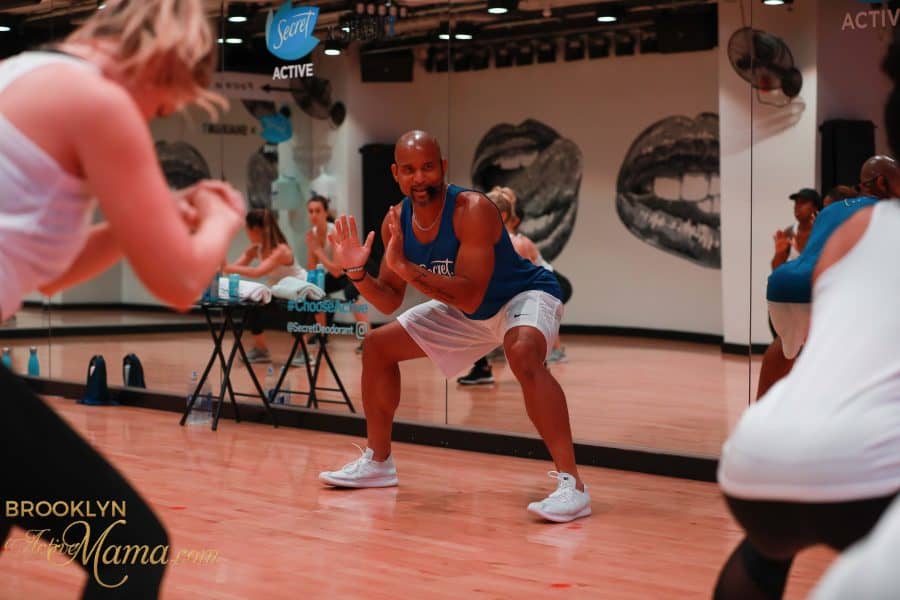 We got started with the live DJ and I will admit I was super nervous. I'm still working out and all but INSANITY types of exercise? No way. Shaun noticed that I was in the family way and assured me that he'd give me modified exercises.
It actually ended up being super fun! I didn't feel like I was overworking my body at anytime, there were ample water breaks etc. I didn't get on the floor with everyone when they did burpees and shoulder touches…but Shaun gave me a stool to lean on while I did "mountain climbers" which was really cool. I had a great time, I broke a serious sweat and I am SO glad I made it happen!
What is Secret Active all about?
The new Secret Active Line comes in three scents: Fresh, Sport and Cool.
Fresh: has a blend of white nectarine, tropical pineapple and grapefruit with lily, puple fresia and lavender flowers.
Sport: A citrus blend that has a burst of peppermint, citrus fruits and notes of licorice, jasmine and gardenia.
Cool: A floral scent with a combination of a fruity cocktail with fresh green foliage.
Afterwards, I was able to chat with Shaun about his 7 month old twins. I asked him out of curiosity if they were sleeping yet and he told me that they were sleeping for an entire 12 hours! I immediately made him tell me all his secrets (see what I did there?) and he said that he started a routine with the kids that involved baths, massages and reading. Once they got used to it, they started taking the cues for sleep and falling asleep on their own. I am definitely going to try this with baby girl!
Thanks so much to Secret for having me for such a fun event!
I worked out LIVE with @shaunt and @secretdeodorant 5 months pregnant and I survived to tell my story! #chooseactive
Have you ever taken a Shaun T workout?
Hi! I'm Nellie. I am a busy mama of three, wife to my high school sweetheart who loves to cook, workout and stay organized! I love to share helpful printables, the best recipes and fitness tips for the modern mom. I strongly believe that every mom can feed their family well, take proper care of themselves and have fun along the way! Read my story.
Get comfortable and be sure to come hang out with me on social. Don't grab your free fitness journal before you go!