Today I'm showing you how to make Strawberry Mint Jam and can it for later! Follow this super easy recipe for a delicious jam!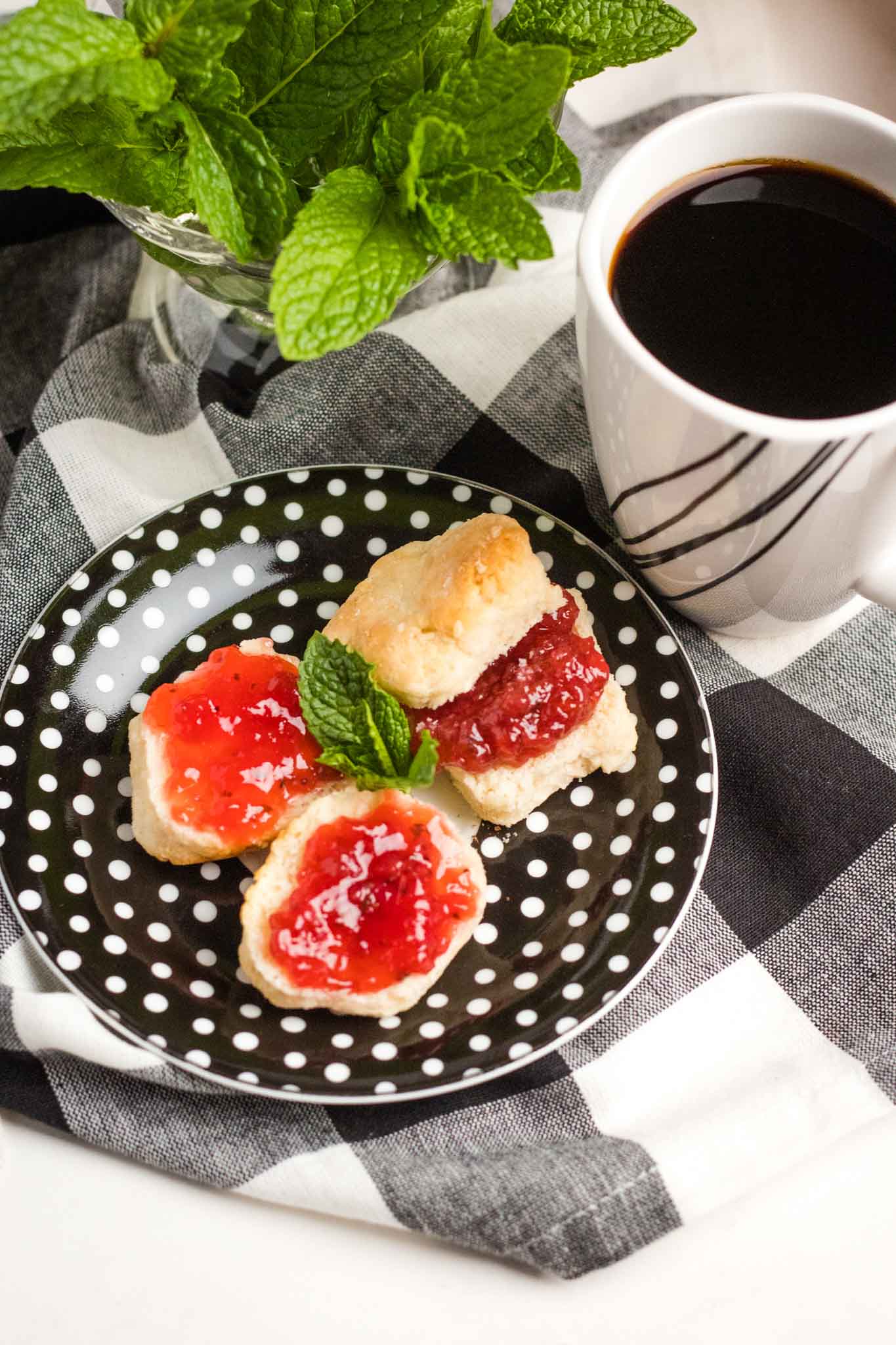 Why is canning so popular?
Canning is a great way to preserve food for later! It's a popular method because it's an easy way to store food and keep it fresh for a long time. canned foods can last for years if stored properly.
Canning is also a great way to share your homemade jams, jellies, and other preserves with friends and family! They make great gifts, too.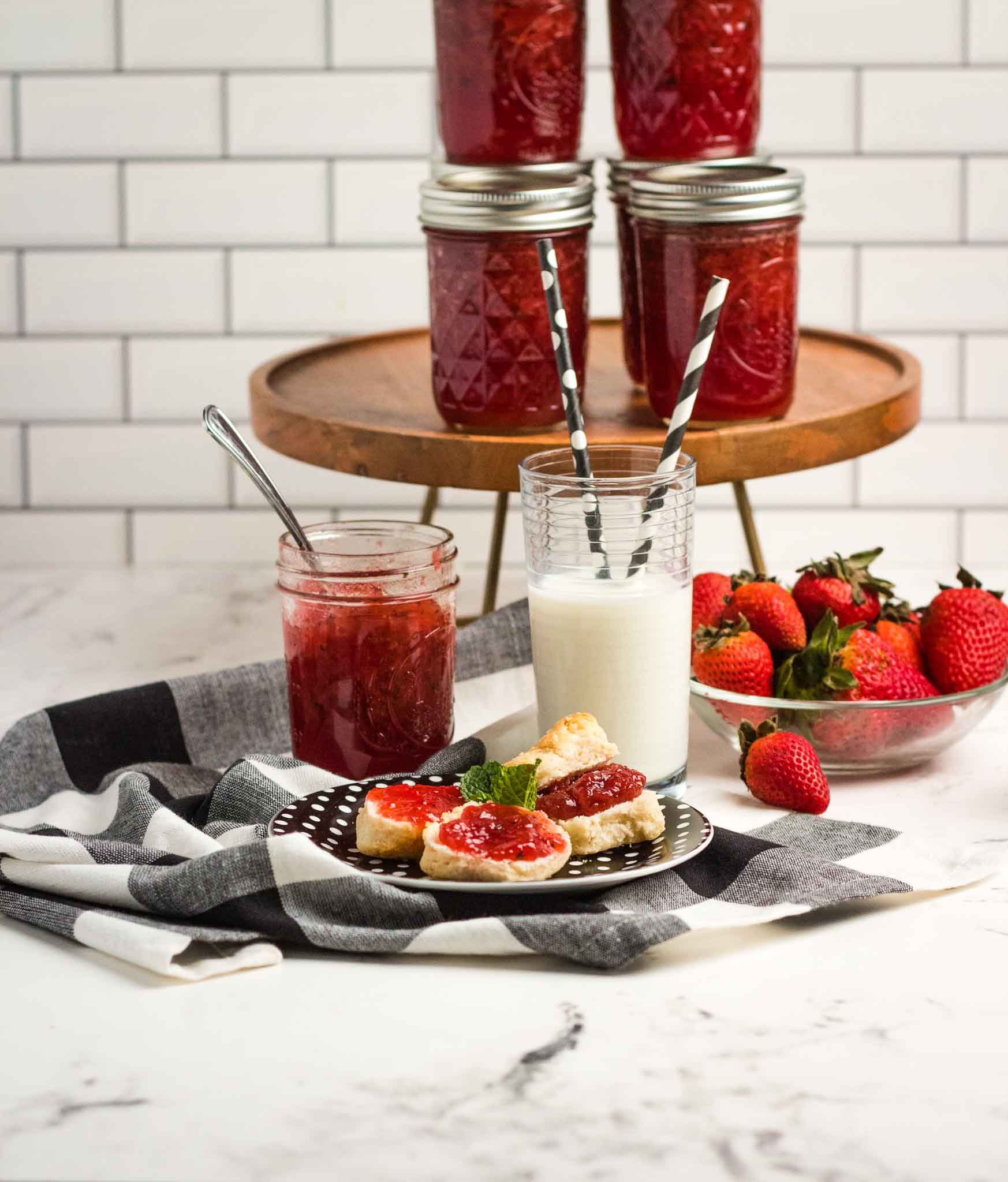 This recipe for Strawberry Mint Jam is super easy to follow and yields a delicious, fresh-tasting jam. Canning it helps to extend its shelf life so you can enjoy it all year long!
What popular foods are great to can?
Many fruits, vegetables, and even some meats can be canned. Popular items to can include:
-Fruits: strawberries, blueberries, peaches, cherries, etc.
-Vegetables: green beans, corn, peas, carrots, etc.
-Meats: chicken, beef, pork, turkey, etc.
Is strawberry and mint a good flavor combination?
Yes! Strawberry and mint is a refreshing and delicious flavor combination. The sweetness of the strawberries pairs perfectly with the cooling, refreshing taste of mint.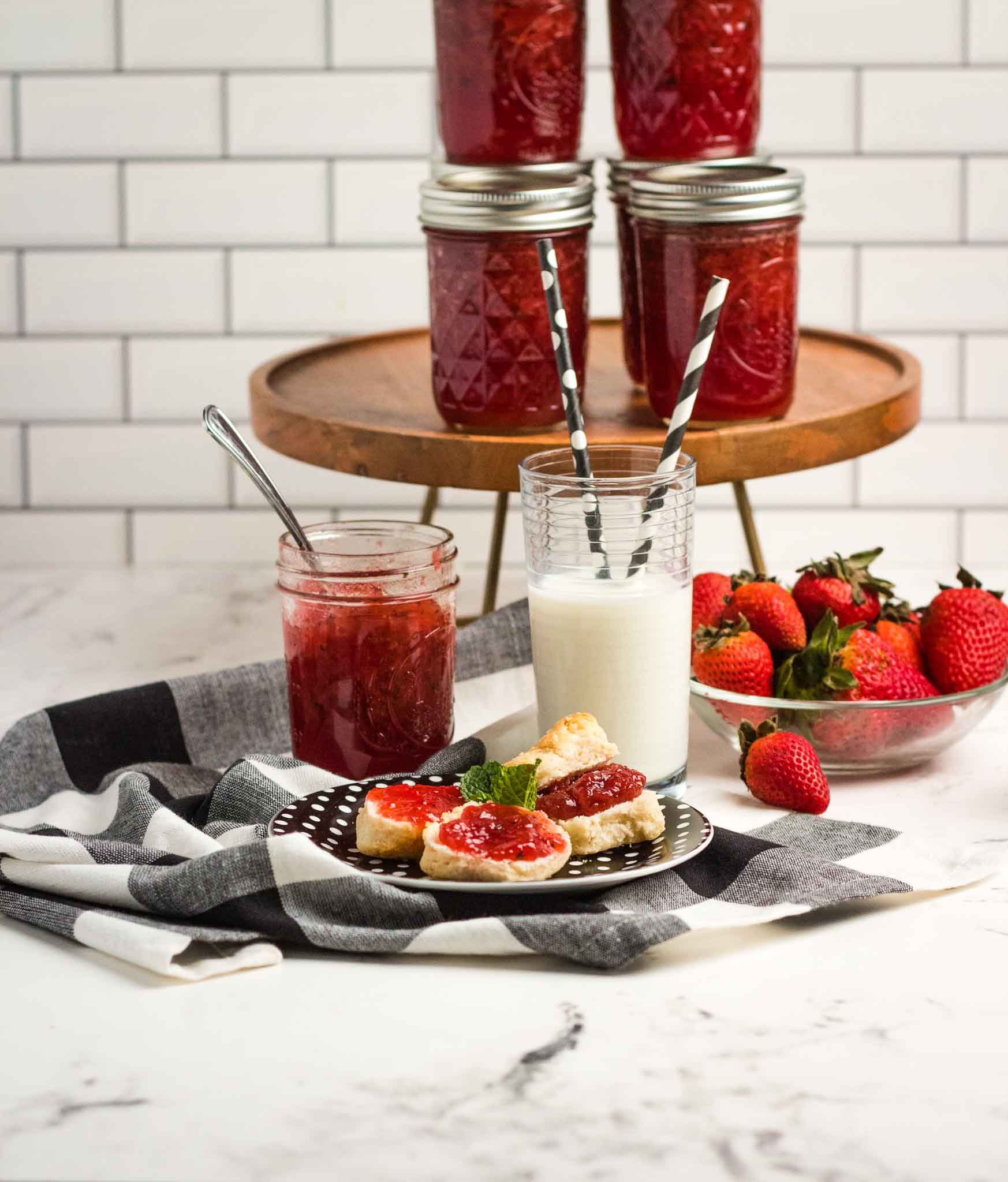 What ingredients do you need for Strawberry Mint Jam?
6 c. crushed strawberries
4 c. sugar
1 box powdered pectin (low sugar variety)
1 tsp. dried mint (can substitute 1 c. chopped fresh mint.)
What can you use Strawberry Mint Jam on?
This jam is delicious on toast, bagels, English muffins, or even straight from the spoon! Try it on top of ice cream or yogurt for a special treat. For this recipe I tried it on biscuits and it was so good!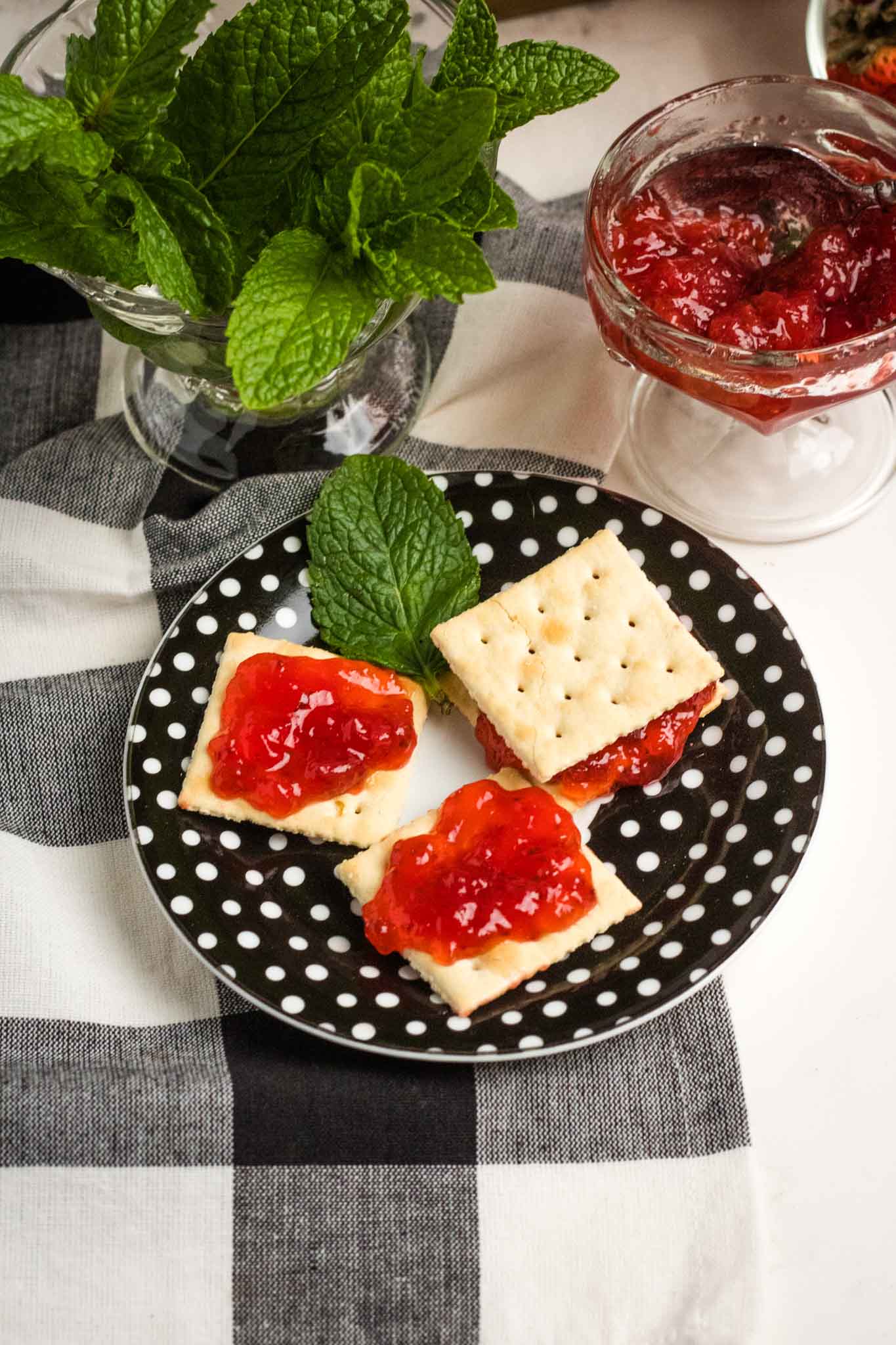 How long does Strawberry Mint Jam last?
This jam will last for about a year when stored in a cool, dark place. Once opened, it should be used within 6 months.
Where can you serve this amazing strawberry jam?
This jam would be perfect for a summertime brunch or tea party. It would also make a great gift!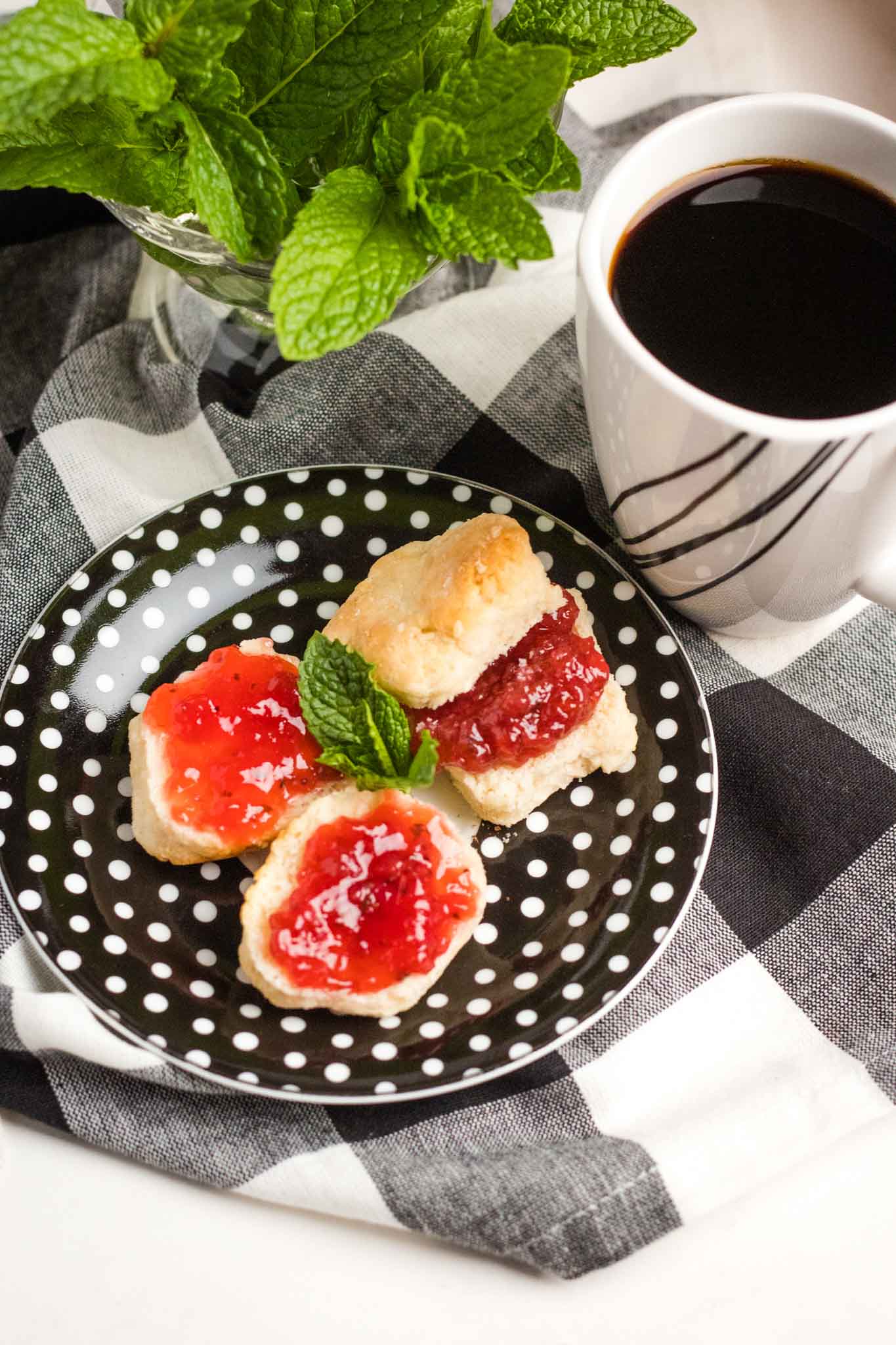 How To Make Strawberry Mint Jam (And Can It For Later)
Additional Time:
10 hours
Total Time:
10 hours
30 minutes
This amazing homemade strawberry mint jam is great on biscuits, crackers and so much more!
Ingredients
6 c. crushed strawberries
4 c. sugar
1 box powdered pectin (low sugar variety)
1 tsp. dried mint (can substitute 1 c. chopped fresh mint.)
Instructions
Instructions
First, refer to and follow the instructions below for sterilizing your jars.
In a large pot, stir the mint into the crushed strawberries. Add in the pectin and ¼ cup of the sugar.
Bring mixture to a boil, stirring frequently. Add in the remainder of the sugar and return to a boil and boil for one minute. Ladle into the sterilized, hot jars. Clean any spillage from the edges and place a lid disc on each jar. Screw the rings on. Lower into a large pot of hot water (you can use the water you sterilized the jars in. (Make sure that the rack or upside-down pan is still in the pot. You may need to remove some of the water initially. After jars are in the pot, add water as needed to cover at least an inch or more above the tops of the jars. Cover with the lid and bring to a boil. Boil for 10 minutes, then remove the jars to a counter to cool overnight. Jam will thicken as it sits.
Sterilizing Jars
Place your jar and lids in a canning pot with a rack in the bottom. If you don't have a canning pot, you can turn a round cake pan or tart pan upside down in the bottom of the pot. It is important to have something for the jars to sit on so they don't get too hot on the bottom and burst. Cover the jars with hot water, allowing the jars to fill with the water. Water should come to about 1 inch over the top of the jars. Place lid on pot and bring to a simmer and heat for 10 minutes. Remove jars making sure the water is drained out of them. Ideally, you want to time this so you are removing the jars from the pot at about the same time as the jelly is ready to porin so the jars will be still hot. Otherwise, the hot jelly could cause the jars to break if they are too cold.
Nutrition Information
Yield
8
Serving Size
1
Amount Per Serving
Calories

451
Total Fat

0g
Saturated Fat

0g
Trans Fat

0g
Unsaturated Fat

0g
Cholesterol

0mg
Sodium

15mg
Carbohydrates

116g
Fiber

3g
Sugar

107g
Protein

1g
Pin it for later!
If you enjoyed this recipe be sure to check out my Instagram Page for the latest posts!
Before you go, check out these great posts!
Easy Canning Recipes For Beginners
Easy Valentine's Day Red Velvet Cake In A Jar
Cookies And Cream Cake In A Jar Recipe
Sweet Charcuterie Board Individual Jarcuterie Dessert Jars
Hi! I'm Nellie. I am a busy mama of three, wife to my high school sweetheart who loves to cook, workout and stay organized! I love to share helpful printables, the best recipes and fitness tips for the modern mom. I strongly believe that every mom can feed their family well, take proper care of themselves and have fun along the way! Read my story.
Get comfortable and be sure to come hang out with me on social. Don't grab your free fitness journal before you go!