Someone once told me that running a marathon was similar to childbirth. Somehow after you completed one (gave birth) you would soon forget the pain and the anguish of crossing the finish line. The hard work and tough times (baby not sleeping/aches-pains-injuries) would become a distant memory and the excitement of actually completing the task again would overwhelm you into maybe wanting another baby…er…marathon finish.
After watching the marathon on TV last Sunday I can unequivocally agree with this sentiment. If you remember, the last time I was sitting in the front of my television watching the NYC Marathon I was super early in my running career. I had run 2 halfs and just a handful of 10ks. It was 2014, I was wrapped up in my blankets while the merciless wind howled outside. I couldn't BELIEVE these runners ran 26.2 in such conditions, yet I was deeply inspired. I declared in that moment that not only was I deeply moved, but I would run the next year.
The next year I ran it. I was a hot mess after the halfway mark. I was in so much pain that I burst into tears at mile 19 when my friend surprised me on the course. I was pretty sure I wasn't going to make it. After 16 hard weeks of training, I was about to give up. She told me I could not. I had no choice, so I pushed through the pain. I walked every step of those 7 remaining miles with my hips screaming every single time I tried to jog. I finished, I was embarrassed. It took me months to even acknowledge I was a marathoner.
The next year was different. My training had been pushed to 20 weeks instead of 16. I practiced on the bridges I'd be running on race day. I didn't eat all the things. Everything changed. At mile 19 I met my girlfriend again, and I gave her big smiles because I knew I would finish strong. I did. Only 7 minutes faster than last year, but strong. SMILING. HAPPY. REDEEMED. A Marathoner, again.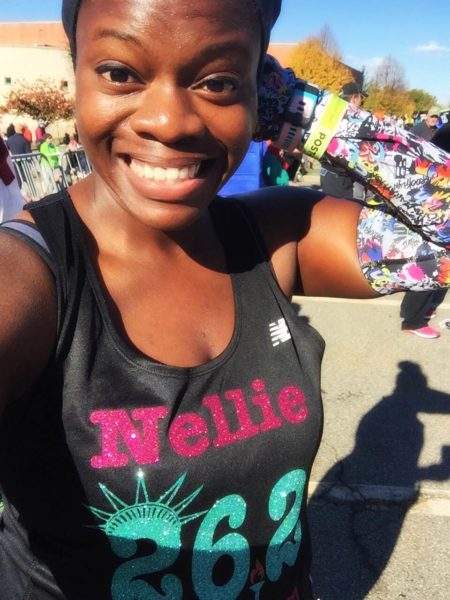 This year I knew I needed to take the year off. I had guaranteed entry but it was a TOUGH year personally. I had been going through so much, I knew that I couldn't really commit my heart and body to train for it. To be honest, it was nice to have my summer back. Not waking up to dread a 18, 19, 20 mile run was kinda nice.
However I learned so much about myself watching the 2018 TCS NYC Marathon. It was a beautiful experience to watch Shalene Flanagan become the first American woman to win the NYC marathon in 40 years. The tears and pride I felt for that moment….unmatched. A lot of my friends ran, but that never gave me fomo–they were all faster than me anyway lol.
It wasn't until I saw the stories of the people finishing in 8 hours plus that broke my heart in a really happy way. It's hard to see all of the magic, when you are knee deep in it. My finish was 6:45 last year and I was always SO embarrassed with that time. I couldn't even imagine being on the course one minute longer. There is a fantastic organization called Project Finish that purposefully comes out at 7:30pm to cheer on the last finishers. They take the time to not only acknowledge the amazing runners, but CHEER & MOTIVATE them in their final steps, when we need it the most. It's brilliant, and I am SO here for it.
Watching and reading the stories helped me realize that I have nothing to be embarrassed about. I am a back of the pack runner–and it's okay. It's more than okay, it's just fine. I have to let go of my own personal stigma that prevents me from running with groups because I'm afraid I'm going to slow them down. Or turning down every single brand sponsored run because I'm afraid of holding the group up. I have to let go of my horrible confidence levels that prevents me from getting any better. I am huge work in progress and I desperately need to work on my running confidence if I want to grow and be the best runner I can be.
I'll probably run NYC next year since I'm qualified. I know. The pain of a baby is incredible. There is no sleep. They cry pretty much all the time. They are COSTLY. The thing is though, they are my greatest accomplishment and I don't mind trying for it one more time.