This easy baked frittata recipe is so good and easy to make for breakfast! This frittata features fresh vegetables, crispy bacon and shredded cheese!
This super simple baked egg frittata recipe is going to be your new favorite breakfast recipe! It's an easy way to make breakfast with leftover veggies for a hungry family! There are so many ways to make this baked vegetable frittata with all of your favorite ingredients for a hearty breakfast.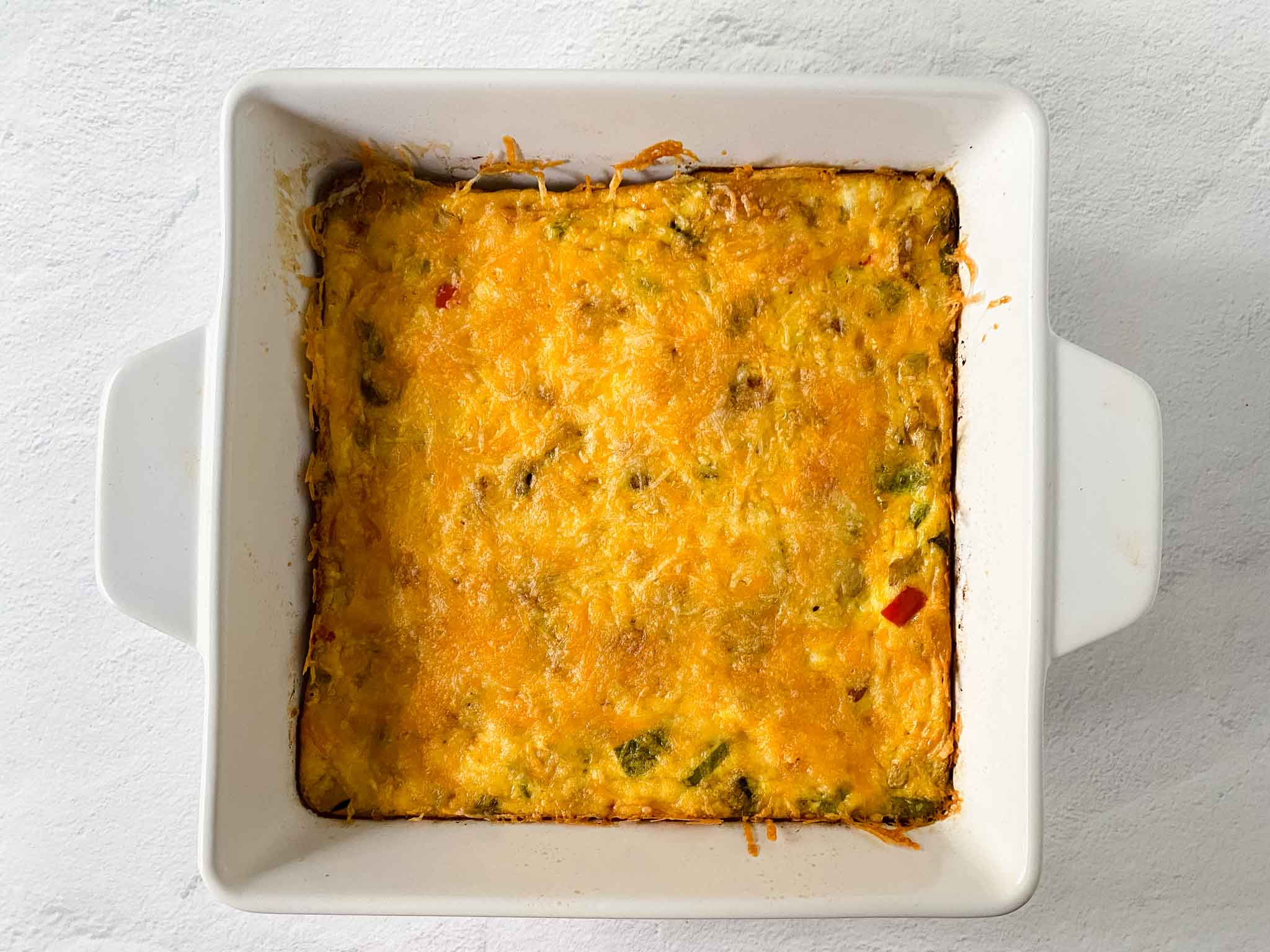 This recipe uses basic ingredients but it's the best frittata recipe! This tasty recipe is a great one to add to your brunch recipes.
What ingredients are in this basic frittata recipe?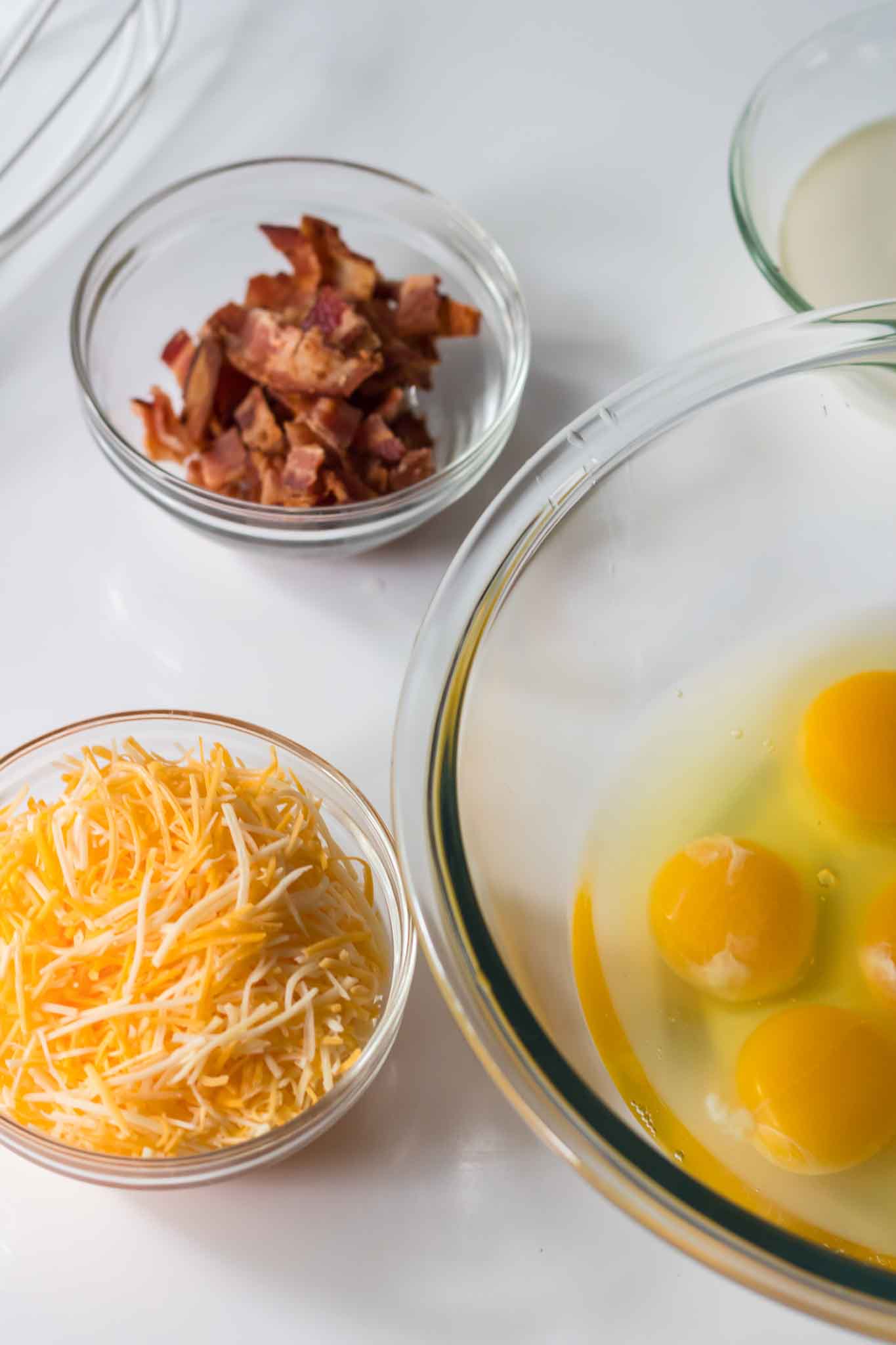 1/4 cup red onion, diced
1/4 cup red bell peppers, diced
1/4 cup green bell pepper, diced
1/4 cup mushrooms, diced
2 tbsp olive oil + 2 tbsp unsalted butter
6 large eggs
1/2 cup heavy cream
1 tsp kosher salt
1 tsp black pepper
1/2 tsp oregano
4 strips precooked bacon, diced
1 cup shredded cheese (Triple cheddar cheese blend)
I've seen many different crustless quiche recipes with fresh spinach, green onions, feta cheese, cherry tomatoes, parmesan cheeses or even goat cheese.
Whatever you want to use in your egg mixture is up to you! This is also a great recipe for meal prep as the cooking time is not long and this delicious frittata can be made anytime!
You will need to pour the mixture into a baking dish (I used a glass dish) for this easy frittata recipe. The creamy texture of the frittata mixture is great.
If you are feeling ambitious you can have it with a side of french toast. A great way to spice things up a bit is if you add red pepper flakes or even some red onions to the mix. It's one of those easy recipes that you will make often.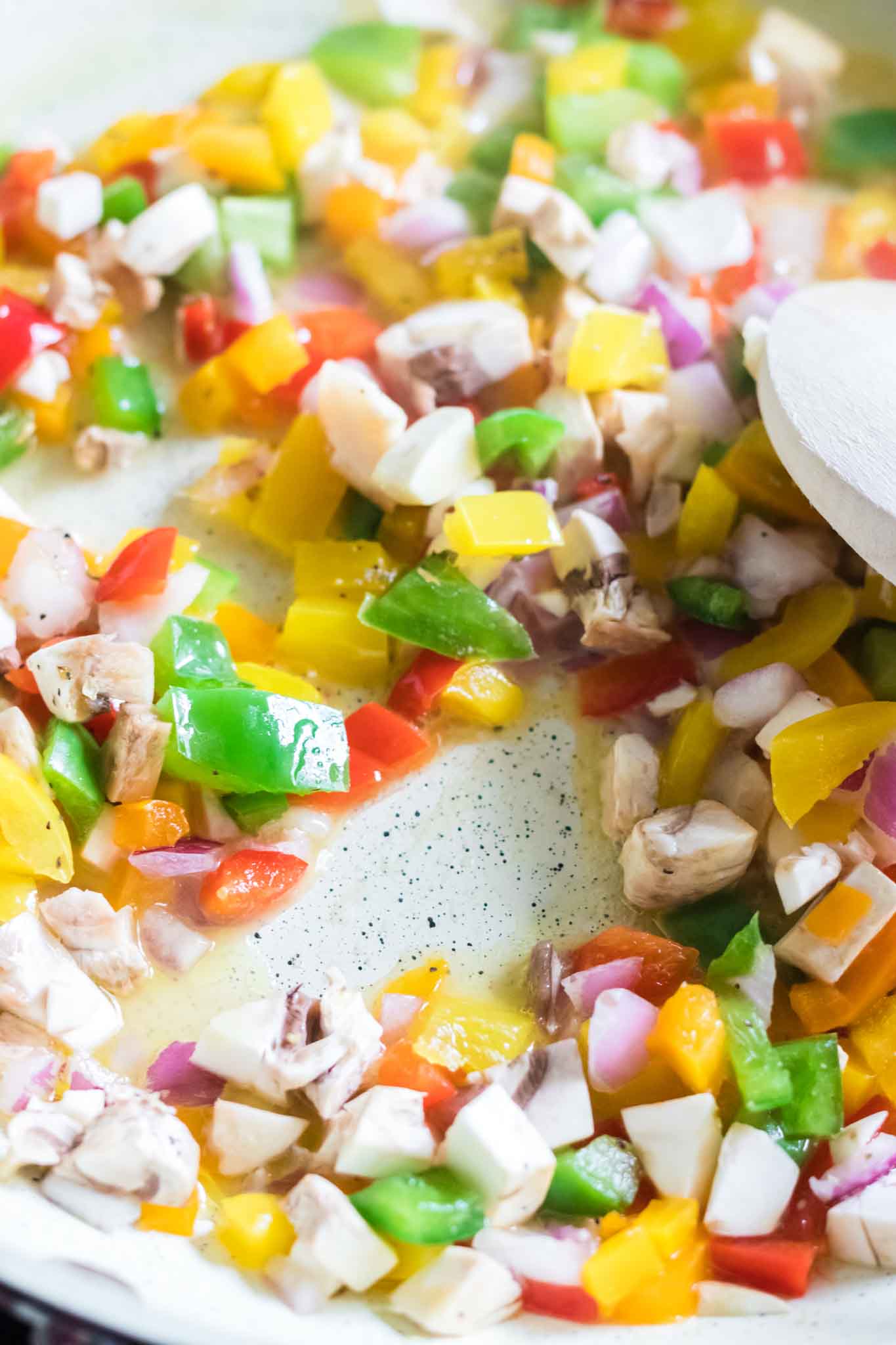 If you wants to make the perfect frittata, you simply just need to add the ingredients of your choice. It's a good way to experiment.
This amazing recipe is great for brunch and if you have any leftover you can store it in an airtight container in the fridge for the next day!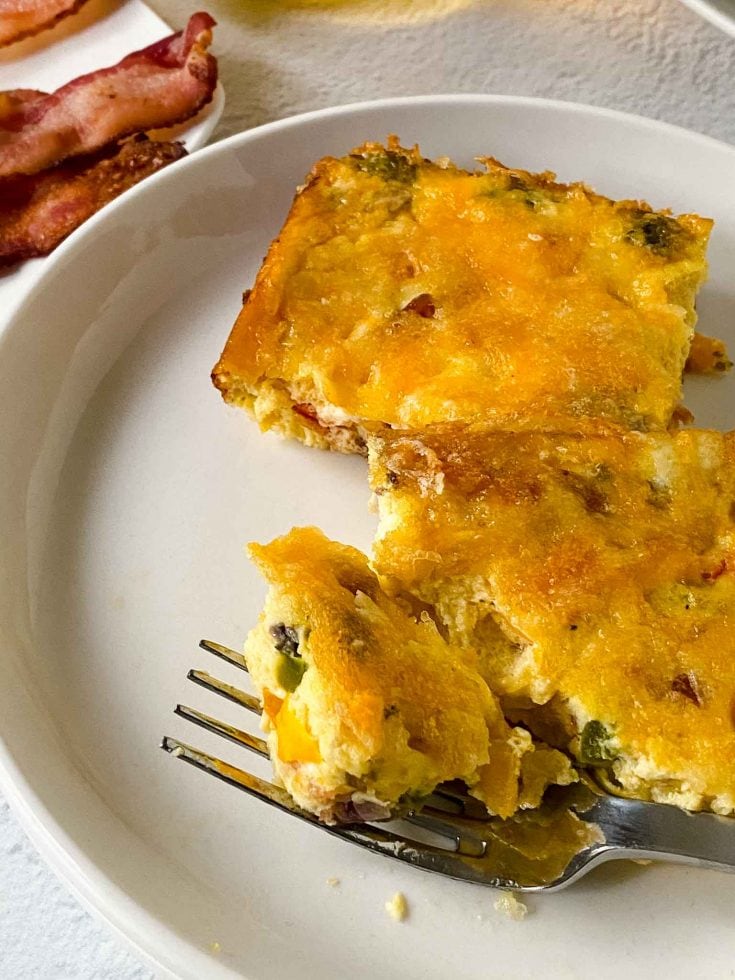 Yield:

8-10 servings
Easy Baked Frittata With Vegetables Cheese and Bacon
This easy baked frittata is so good! Filled with veggies, bacon and cheese, this will be one of you favorite breakfast recipes.
Ingredients
1/4 cup red onion, diced
1/4 cup red bell pepper, diced
1/4 cup green bell pepper, diced
1/4 cup mushrooms, diced
2 tbsp olive oil + 2 tbsp unsalted butter
6 eggs
1/2 cup heavy cream
1 tsp kosher salt
1 tsp black pepper
1/2 tsp oregano
4 strips precooked bacon, diced
1 cup shredded cheese (Triple cheese blend)
Instructions
Preheat oven to 350

Dice all veggies and heat olive oil and butter over medium heat.

Add veggies and sauté until soft.

Set aside

Add eggs, cream, salt, pepper, and oregano to a bowl. Whisk to combine. Add crumbled bacon, veggies and cheese.

Give it a good stir

Spray baking dish with non stick spray

Add egg mixture and bake uncovered for 30 mins or until the top is golden and bubbly. Add extra cheese at the 30 min mark if you'd like and bake for 5 more mins.
Nutrition Information
Yield
10
Serving Size
1
Amount Per Serving
Calories

201
Total Fat

18g
Saturated Fat

8g
Trans Fat

0g
Unsaturated Fat

8g
Cholesterol

147mg
Sodium

324mg
Carbohydrates

2g
Fiber

0g
Sugar

1g
Protein

9g
If you liked this recipe be sure to hang out with me on Instagram for the latest posts!
Pin it for later!
If you liked this recipe be sure to check out more breakfast recipes below!
Easy Sausage Egg and Cheese Biscuits – Breakfast To Go Recipes
Easy Tik Tok Baked Oats For Breakfast – Simple Viral Recipe
Easy Homemade Loaded Breakfast Burritos Recipe
Funfetti Birthday Waffles – Celebrate With This Fun Waffle Recipe!
Strawberry Cheesecake Stuffed Waffles