The holiday season is my favorite time of year to bake! From cookies to pies to cake, I just want to bake everything! However, baking can be really expensive and time consuming so I'm sharing some critical baking hacks + a recipe for an amazing coconut cream pie!
8 Baking Hacks to Help Get Your Through the Holidays
There's no denying that between shopping for gifts and entertaining guests during the holiday season things can get a little hectic and stressful. Baking is one of the biggest and most tedious things we do during the holidays. It can also be time consuming, taking away from enjoying everything the holidays are meant for, spending time with friends and family.
However, there are some popular baking hacks that can help you get through the holidays, so you have more time doing the things you love.
Add extras to pre-made dough. If you're really running out of time and have some pre-made cookie dough sugar cookies on hand, you can add a little flavor to them before you bake them for a whole new taste. Just let the cookie dough soften and sprinkle in the flavoring you'd like to use. You can add things like cinnamon or flavored extracts to create a flavored sugar cookie without all the extra work.
Try these tricks to bring butter and eggs to room temp. No time to let them sit and get to room temp? No problem! For butter you can fill a glass with steamy hot water, let it sit for a few minutes, dump it, then let the butter sit in the warm glass to bring it to room temp quickly. Eggs can quickly be brought to room temp by putting them in warm water and letting them sit for a few minutes.
Bread can help keep your cake moist. While it may sound strange, it's become a popular way to keep your cake moist until you're ready to decorate. Once you've taken the cake out of the oven, just place a piece of bread on top of the cake until you're ready to put the frosting on it. Bonus! A slice of bread can also keep your brown sugar moist!
Keep cookies softer longer. Once the cookies are baked and ready to be stored, you can place an apple slice in with the cookies to keep the cookie soft and delicious longer.
No pipettes for decorating? No big deal! You can place the icing in a Ziploc bag and cut a small piece of the corner off. Just remember, the bigger you cut the corner, the more icing that will come out. You can also use a syringe to do more detailed decorating.
Use dental floss to cut. Dental floss can be used to cut a cake into layers, slice bread loaves or other baked goods.
Quickly ripen bananas for baking. If you need a quick way to get those bananas ripe enough to use for baking, put them on a sheet pan and bake them in an oven at 300 degrees for about 20 minutes.
Make cookie dough ahead of time so you can freeze it. When it comes to baking day, it can take so long to find the recipe and gather the ingredients just to mix it together and then worry about cleanup. If you make the cookie dough ahead of time you can freeze it until you're ready to bake it. The cold dough can also help make the cookies a little softer in the middle.
These are just a few easy baking hacks you can do to save time and money when baking for the holidays. These tips and tricks will hopefully let save you some time so you can spend more time with friends and family.
Yield: 8 Servings
Amazing Coconut Cream Pie + 8 Must Know Holiday Baking Hacks
Prep Time: 20 minutes

Cook Time: 1 hour

Total Time: 1 hour 20 minutes

This coconut cream pie recipe features a yummy and creamy coconut filling, can be used with your favorite pie crust, and topped with coconut shavings. Perfect for Thanksgiving and anytime.
Ingredients
1 unbaked 9-inch pie crust (use your favorite homemade crust or store-bought)
1 ½ cup sugar
½ cup unsalted butter, softened
2 large eggs
½ teaspoon salt
¼ cup all-purpose flour
½ cup milk
1 ½ cup coconut flakes, divided
Instructions
1. Preheat oven to 350 degrees.

2. Beat the butter, sugar, eggs, and salt until they reach a nice lemony color.
3. Add in the flour and blend well, before beating in the milk.
4. Fold 1 cup of coconut into the pie filling and then pour the filling into the unbaked pie shell. Sprinkle remaining ½ coconut over the top of the pie.
5. Bake for 1 hour, and then cool completely on a wire rack.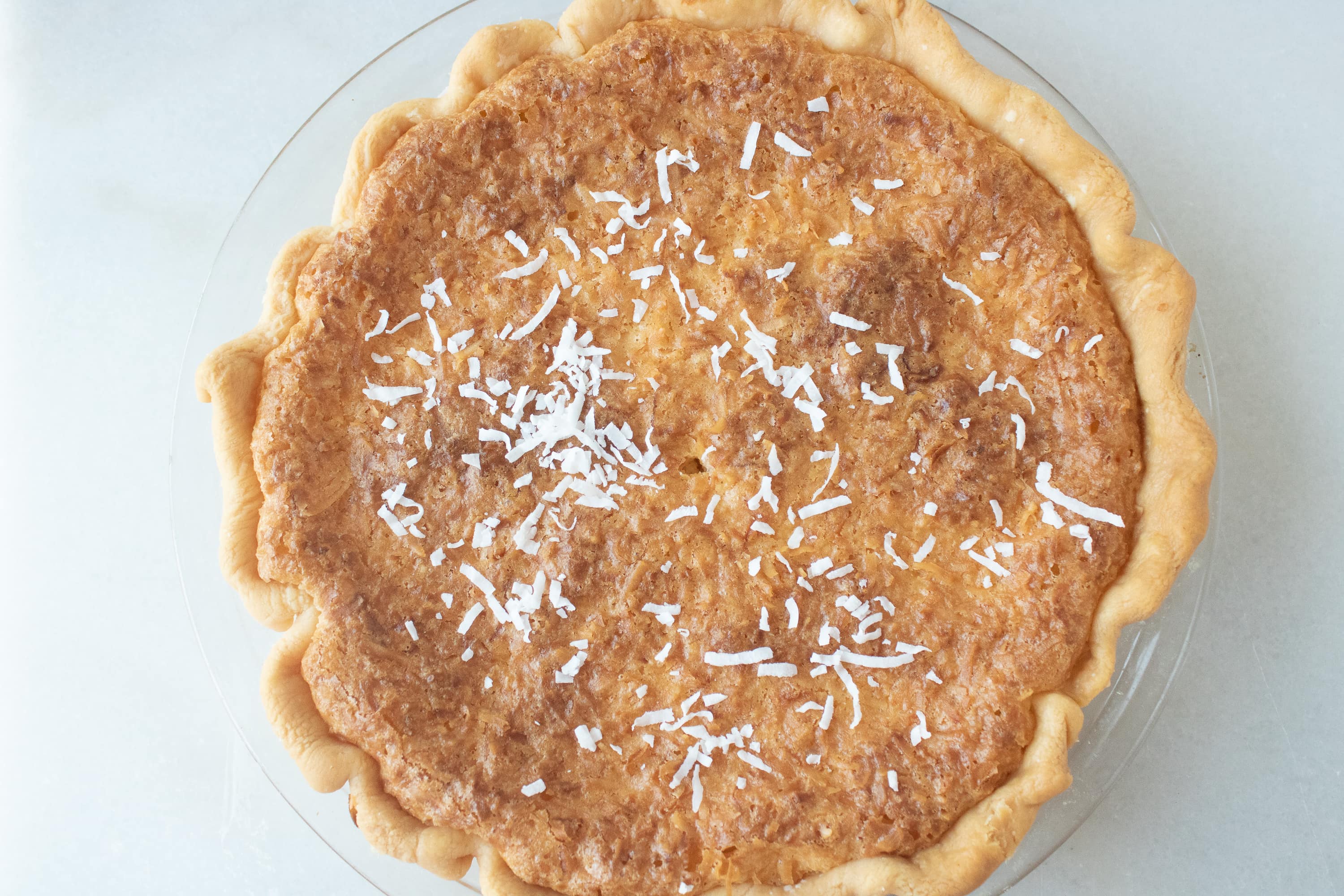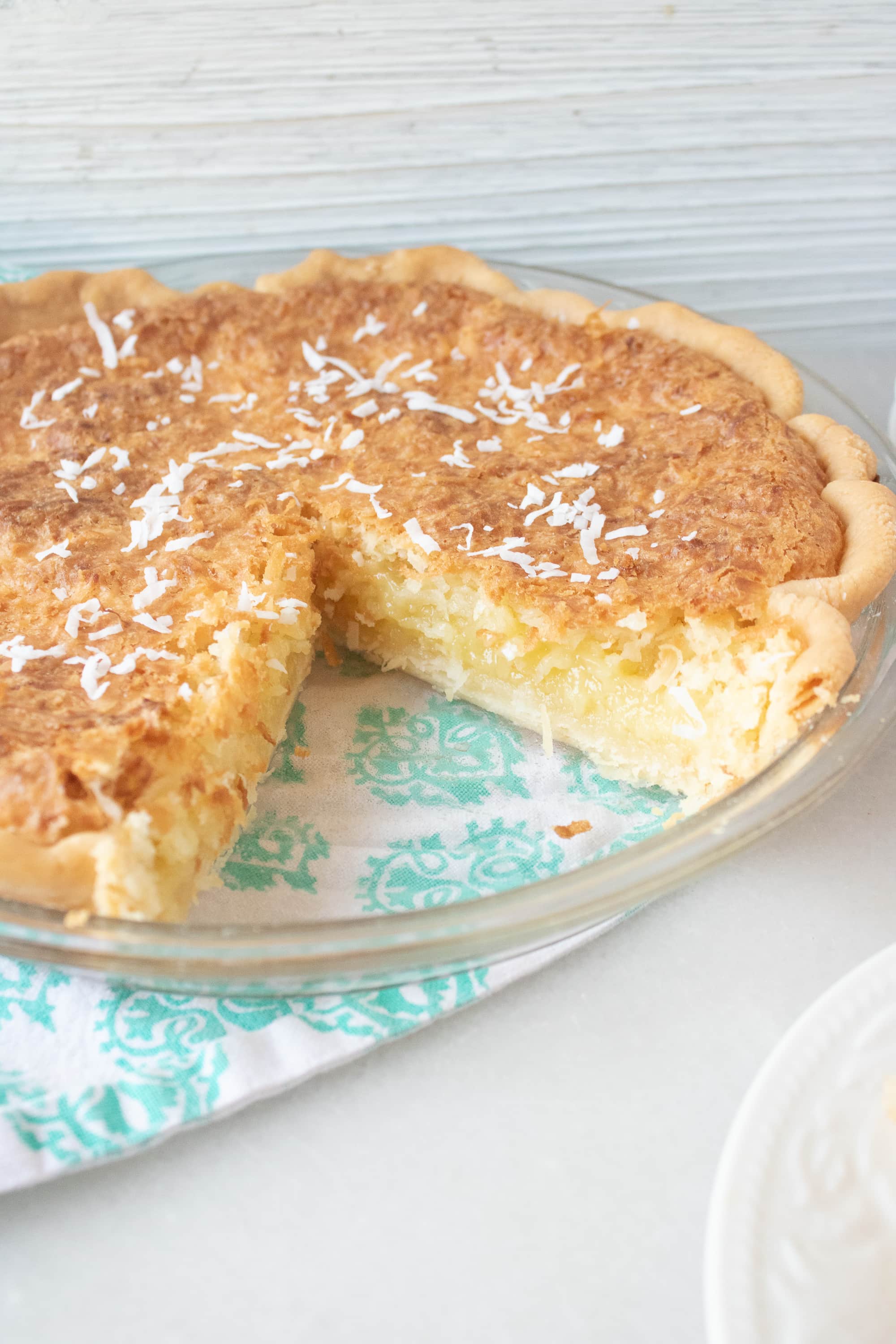 Nutrition Information
Yield
8
Serving Size
1
Amount Per Serving Calories 457Total Fat 23gSaturated Fat 14gTrans Fat 0gUnsaturated Fat 8gCholesterol 78mgSodium 295mgCarbohydrates 60gFiber 2gSugar 44gProtein 4g
Today I am so excited to be participating in Blog Friendsgiving!
I have joined up with a bunch of blogger friends for a Friendsgiving Virtual Potluck! Be sure to check the recipes below out for wonderful Friendsgiving and Thanksgiving recipe and craft ideas!
Appetizers
Baked Brie with Honey & Walnuts from Kelley of Mountain Mama Cooks
Bacon Ranch Cheese Ball Bites from Nicole of I am a Honey Bee
Reindeer Bacon Cheddar Cheese Ball from Julie of Julie Blanner
Salads
Sauteed Kale and Brussels Sprout Salad with Cranberries and Walnuts from Shashi of Savory Spin
Creamy Brussels Sprouts Salad from Faith of An Edible Mosaic
Main Dishes
Savory Vegetable Crisp from Bree of Baked Bree
Rosemary Lamb Steaks from Danyelle of The Cubicle Chick
Turkey Pot Pie from Kelly of Eat Picks
Side Dishes
Fried Brussels Sprouts from Erin of The Almond Eater
Cheesy Horseradish Mashed Potato Casserole from Renee of Kudos Kitchen by Renee
Cranberry Cream Cheese Dip from April of April Golightly
Sauteed Garlic-Butter Mushrooms from Linda of Simply Healthyish Recipes
Easy Cheesy Hash Brown Casserole Recipe from Mel of Adventures of Mel
Cornbread Stuffing with Chorizo from Isabel of Isabel Eats
Bacon Brussels Sprouts from Kara of Kara J. Miller
Crockpot Sweet Potato Casserole from Jennifer of Show Me the Yummy
Amazing Gluten Free Thanksgiving Stuffing from Sommer of A Spicy Perspective
Pumpkin Caramelized Onion Gratin from Denise of Chez Us
Crockpot Mac & Cheese from Leanette Fernandez of Funtastic Life
Cheesy Brussels Sprouts au Gratin from Rachel Gurk of Rachel Cooks
Drinks
Spiced Pumpkin Margarita from Sharon of Cupcakes and Cutlery
Breads
Sourdough Pull Apart Rolls from Erica of Buttered Side Up
How to Make Homemade Butterhorn Rolls from Mel of Flour on My Fingers
Sweet Dinner Rolls from Jocelyn of Grandbaby Cakes
Parker House Rolls from Irvin of Eat the Love
Desserts
Sugar Pie from Julie of The Little Kitchen
Oatmeal Apple Crisp from Julie of Peanut Butter Fingers
Pumpkin Pie Milkshake from Eden of Sugar and Charm
Strudel Pastry from Justine of The Typical Mom
Tahini Hawaij Pumpkin Pie from Amy of What Jew Wanna Eat
Turkey Cookies from Meaghan of The Decorated Cookie
Mini Apple Pie Bites from Lynsey of MoscatoMom
Kabocha squash pie from Hilah of hilahcooking
Pecan Pie Cupcakes from Courtney of Pizzazzerie
Coconut Cream Pie from Schnelle of Brooklyn Active Mama
Chocolate chip cheesecake from Jeannette of Hispana Global
Chocolate Pecan Pie from Kate of I Heart Eating
Mini Pumpkin Cheesecakes from Chelsea of Someday I'll Learn
Cinnamon Apple Crisp from Erica of The Crumby Kitchen
Turkey Donut Race Cars For Thanksgiving Treats from Theresa of Chewable Structures
Crafts and Centerpieces
Cinnamon Stick Holiday Candle Place Setting from Alli of Made with HAPPY
Metallic Pumpkin Luminaries from Amy of As The Bunny Hops
Easy centerpiece that will stun + party favor from Noelle of Oh Happy Play
Hi! I'm Nellie. I am a busy mama of three, wife to my high school sweetheart who loves to cook, workout and stay organized! I love to share helpful printables, the best recipes and fitness tips for the modern mom. I strongly believe that every mom can feed their family well, take proper care of themselves and have fun along the way! Read my story.
Get comfortable and be sure to come hang out with me on social. Don't grab your free fitness journal before you go!