These amazing butter pecan cookies are so yummy and easy to make! This butter pecan cookie recipe makes chewy cookies and the first time you make them you will love them!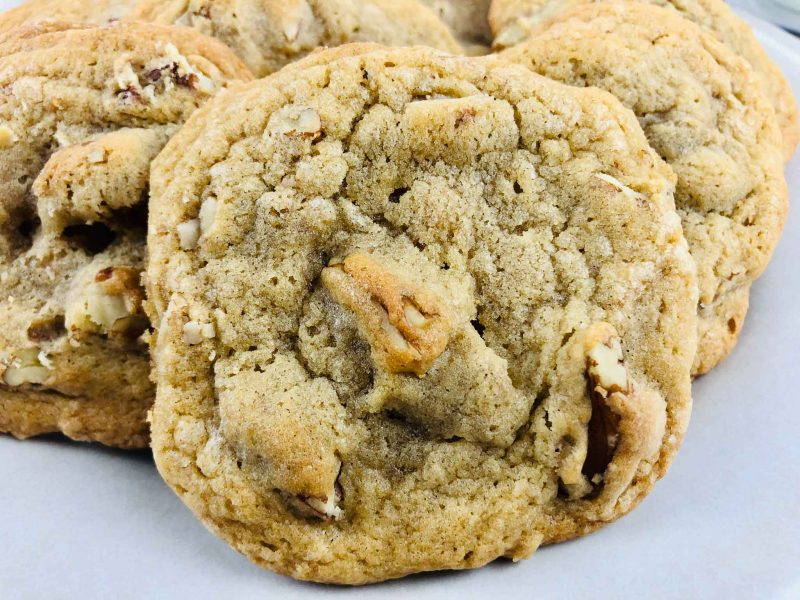 These cookies feature chopped pecans and a rich flavor. It's a classic recipe that you can honestly bring to any occasion. These perfect butter pecan cookies also make for great gifts! It is one of those easy recipes that you will make again and again.
If you are fan of butter pecan ice cream you will adore this butter pecan cookies recipe.
What ingredients do you need for these butter pecan cookies?
2 sticks melted butter & cooled
1 cup brown sugar, packed
½ cup sugar
2 eggs
2 teaspoons vanilla
2 ½ cups all purpose flour
1 teaspoon cornstarch
1 teaspoon baking soda
½ teaspoon salt
1 ½ cups roasted pecans, chopped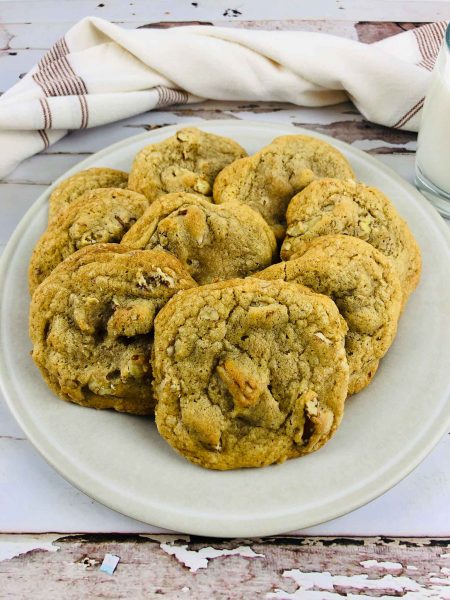 When it comes to cookie recipes this one is so easy! Grab your cookie sheet and wire rack and bake until the tops of the cookies are golden brown.
I like to use my tablespoon cookie scoop and place the cookie dough balls in a single layer on parchment paper. These cookies are awesome for the holiday season too!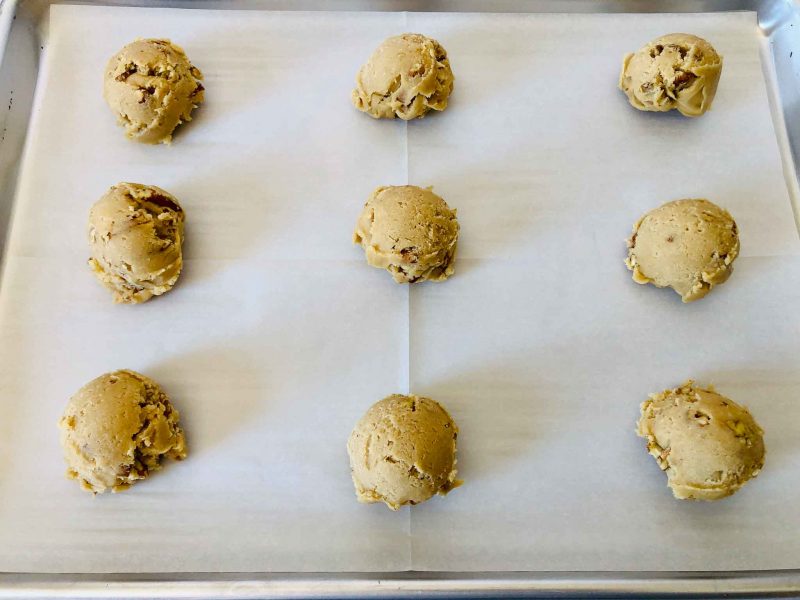 One of the first things you will notice is the soft centers and the toasty flavor of these amazing cookies. You might need to make a second batch because this first batch won't last long on the cooling rack!
These are the best cookies for this time of year! They are great for a cookie exchange and will become your new favorite cookie recipe.
Enjoy and let me know if you make these! The next time you feel like making cookies, grab this recipe!
Yield:

12-15 cookies
Chewy Butter Pecan Cookies
These southern butter pecan cookies are so good and easy to make! Perfect sweet treat for any occasion.
Ingredients
2 sticks unsalted butter, melted & cooled
1 cup brown sugar, packed
½ cup sugar
2 eggs
2 teaspoons vanilla
2 ½ cups flour
1 teaspoon cornstarch
1 teaspoon baking soda
½ teaspoon salt
1 ½ cups pecans, chopped
Instructions
Melt butter and allow to cool
MIx both sugars into the butter
Mix dry ingredients together and stir into butter sugar mixture
Fold in pecans
Chill dough in refrigerator for 2 hours
Scoop onto parchment paper lined cookie sheet
Bake at 350 for approximately 10 minutes
Pin it for later!
Check out these fun cookie recipes before you go!
Cookies And Cream Cake In A Jar Recipe
Soft Baked Copycat Loft House Frosted Sugar Cookies
Birthday Confetti Sandwich Cookies
Amazing Red Velvet Cheesecake Cookies