**This is not a sponsored review, Blink Fitness has no clue I exist, I just get really excited for new gyms in my 'hood**
When I first decided to go to gym in college, I was forced to use my very small smelly, old, college gym. It had one treadmill, one stationary bike, some really heavy weights and a Bow flex. It was awful, but I had no better options so I went–and lost weight too. Back then there were very few gyms in Brooklyn, especially in neighborhoods of color like my own. In recent years, this has changed however, a Planet Fitness (finally) opened up relatively close, and now a new chain of Fitness centers, Blink Fitness, is now on the scene.
The Blink Fitness at Flatbush Junction is brand spanking new. It opened on June 1st and still had workers putting the final touches on the gym. What I loved about Blink Fitness was that it was brand spanking new. Tons and tons of machines including my very favorite the stair climber and the rowing machine, both of which Planet Fitness doesn't have. Score one for Blink Fitness!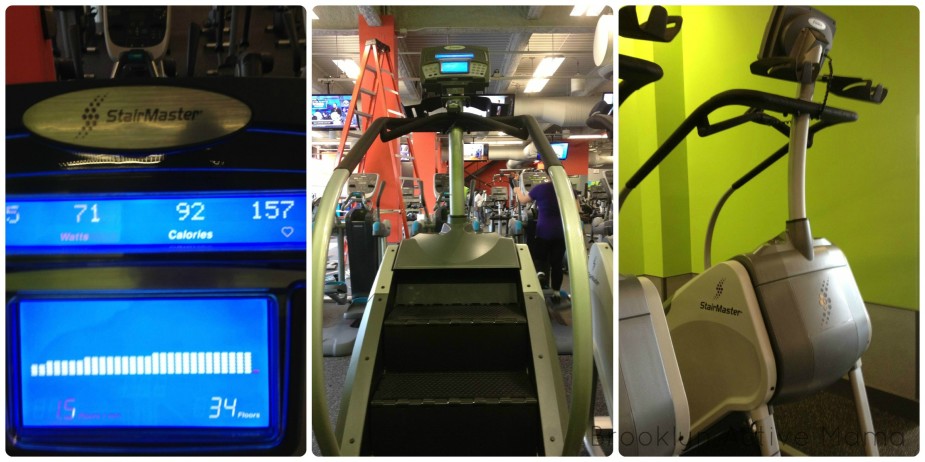 Since I signed up online for a free daily pass I was given a quick tour of the place including a tour of the locker room on the main floor and the second floor upstairs. The super nice and friendly staff was a joy to interact with.
Newbie Friendly
One aspect of the gym that I found very exciting was the fact that there was pamphlets available that explained whichever body part that you wanted to workout. I know that going to a gym can be insanely intimidating but have several paper guides there sure does help someone that doesn't necessarily want to ask for help. There is also a HUGE billboard over the stretching area that explains how to stretch and even demonstrates some additional strength training moves includes lunges and leg raises.
One of the things that I liked most about Blink Fitness was the amount of machines–Planet Fitness has a LOT of machines but Blink has what seems like twice as many. One nice feature was that about a quarter of the machines had individual TV's, which is a really great feature for the price.
Blink Fitness Strength Training
Blink Fitness actually divides their strength training machines based on the arm of the body. So there is a specific area of machines for Abs, Legs and Arms. This is an interesting layout as I am used to having a full body workout accessible in the same general area, but I see where they were going with this.
The stretching area was vastly huge and included a small and large box (Burpees anyone?) two kettle bells, dumbbells, and several weighted exercise balls. Blink Fitness definitely won in that category because the Planet Fitness I am a member of doesn't even have a stretching area. Which I find super annoying!
Club Hours
Unlike Planet Fitness, Blink Fitness is not open 24 hours, but since I don't workout during Vamp hours, it really doesn't bother me. Another very important fact is that I have seen Planet Fitness at its worst, at the height of rush hour, and its pretty awful. It is a packed sweaty mess of people. I visited Blink Fitness on the third day of opening and in the middle of the day. I would really have to see the gym 6 months from now at 6pm to make any real decisions about which facility is better.
Overall Thoughts
For $15 a month for a basic membership you are certainly getting more bang for your buck at Blink Fitness. It is at a very central location so when this place takes off (and it will) the rush hours may be a bit much to handle. The locker rooms are a bit small but if you come prepared and in your gym clothes this won't be an issue. Of course, my main gym, New York Sports Club has all the amenities that Blink Fitness and Planet Fitness don't–which include towel service and group fitness classes.
For someone who just needs a basic place to workout, I would definitely choose Blink Fitness as one of the best and most affordable workout spots in Brooklyn.
What do you look for when you are scouting out a gym? For all my non gym goers, what would make a gym more appealing to you?
Hi! I'm Nellie. I am a busy mama of three, wife to my high school sweetheart who loves to cook, workout and stay organized! I love to share helpful printables, the best recipes and fitness tips for the modern mom. I strongly believe that every mom can feed their family well, take proper care of themselves and have fun along the way! Read my story.
Get comfortable and be sure to come hang out with me on social. Don't grab your free fitness journal before you go!