Best Vegan Restaurants in Brooklyn
One of the best parts about living in Brooklyn is the food. Around almost every corner, you can find foods from any culture, to suit any taste. Except for vegan food. Finding good vegan food can be like looking for the proverbial needle. While some restaurants have vegan options, they may not do it well. And for some vegans, it's important to dine in restaurants that follow vegan practices with all of their meals. I've put together a list of vegan (or mostly vegan) restaurants in Brooklyn and New York City.
Next Level Burgers – Located inside the Whole Foods on Ashland Place, Next Level Burgers has been around since 2014. All of their foods are plant based. Besides great burgers, they have a selection of organic fries and tots for the perfect lunch combo. Have you found yourself craving a great hot dog reminiscent of the ball park? The NLB is perfect for you; they have a variety of dogs on the menu, with incredible plant-based toppings. If you're not in the mood for burgers, then the garden grilled cheese is to die for! They also have a selection of kids meals with fun foods including grilled cheese and fish(less) filets.
Greedi Vegan – Greedi Vegan claims to be the best vegan food in Brooklyn. Their 4.5 stars on Yelp seems to at least put them solidly in the top 10. They have a menu that offers light starters including nachos, entrees that feature tacos, sliders, and bowls in a variety of flavors. From 10-2 on the weekends, Greedi Vegan serves a brunch with favorites such as French toast, grits, and a sausage tofu scramble. You can purchase gift cards for Greedi Vegan, making them a great gift option for vegans you love!
Coco Lin Vegetarian House – If you're in the mood for Asian or Thai food, Coco Lin should be on your list. They have a huge variety of vegan lunch specials under $10.00. Their dinner menu includes Teriyaki Duck, Pan Fried Vegetarian Fish, and a spicy Curry Beef, all under $15.00. They have a variety of sandwiches, and serve a variety of Thai Curries. Their Soy Ice Cream Shakes make a great dessert! You can order online, and they deliver!
Happy Zoe Vegan Bakery – Finding vegan baked goods can be a challenge even in the city. But hidden away in a tiny space next to a lumber warehouse is Happy Zoe's. They carry an amazing cheesecake, which you can buy by the slice, as well as a brownies and apple pie. They have coffee and smoothies, making it a dessert destination! For special occasions, you can order custom cakes in advance, and they even have a website where you can order goodies to be shipped anywhere!
Champs Diner – Sometimes, you just get a craving for diner food. Champs definitely delivers! You can't call yourself a diner if you don't serve breakfast, and Champs gets breakfast right. French toast, a breakfast slam, and even biscuits and gravy are on the menu, and there's six different types of pancakes! For lunch, grab a sandwich or grab either a vegan take on the traditional burger, or try the Mondo Burger if you want a little spice in your life! Finish up with a cookie dough sundae or Girl Scout shake! Plan on a wait if you're there for breakfast on the weekend.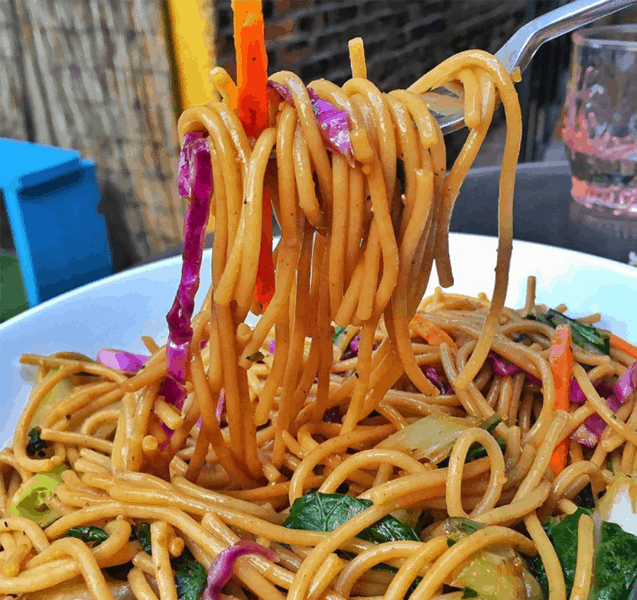 Ital Kitchen – When I first saw the name "Ital Kitchen" I expected to find vegan Italian food. While this place is full of flavor and spices, it most definitely is not Italian! It's French-Influenced Caribbean food, cooked by Chef Michael Gordon, born in Jamaica and raised in Queens. The lunch menu is small, but full of flavor; the dinner menu includes appetizers, mains, and sides. You can watch your meal being prepared, and the open kitchen means the sights, sounds, and smells create an experience for all of your senses! Stop by anytime for a Gingerade, a Jamaican-style Ginger Lemonade!
Hartbreakers – Hartbreakers is a fast-casual, 70s inspired restaurant with an all-vegan rotating menu. They offer a variety of sandwiches, sides including fries, and salads. Stop by right after they open at 11 for a breakfast-inspired goodie, or grab a nice dinner. All of their menu items, except breads and sliced cheese, are made in house, so you're sure to get clean, vegan food at Hartbreakers! Not sure what you might get due to their rotating menu? Check out their website for an up to date menu. Follow them on Instagram for mouthwatering pics of their delicious vegan food!
Monk's Meats – What's a list of food available in Brooklyn without a delicatessen? Monk's Meats is a vegetarian butcher shop and deli. You can find them at the Smorgasburg Market on Saturdays in Williamsburg and Sundays in Prospect Park or on Saturdays on Kent Avenue. Their Smorgasburg locations are cash only, according to Yelp reviews. Be sure to check out the sliders while you're there.
Brooklyn Whiskers Bakery – The bill themselves as your neighborhood vegan outpost. The reviews say their cream cheese for bagels and banana hazelnut muffin are the real deal! Their options vary daily, but they are a great stop for breakfast, with an 8 am open time. If you're planning on grabbing a sweet for dessert, stop by early; they close at 4 pm! They offer croissants, brownies, and cupcakes. For lunch, you can pick up sandwiches, and be sure to ask about the House specials. The cat-themed restaurant is a little eclectic, but it's a great place to grab a quick bite! Check out their 'around town' section of their website to see where you can pick up their yummy treats in your neighborhood!
Thankfully, Brooklyn has an incredible variety of restaurants for those seeking vegan menus. You can have your choice of types of foods, with everything from fine dining to diner food included. The great thing about being vegan in Brooklyn is the opportunity to find great restaurants that run the gamut from family friendly to casual and intimate for date night.
For more fun in Brooklyn check out:
Vegan Strawberry Smoothie Bowl Recipe + Quick and Healthy Breakfast Ideas
Peaches Brooklyn — Amazing Service, Even Better Food
Best Restaurants In Brooklyn: Sweet Science Restaurant
Hi! I'm Nellie. I am a busy mama of three, wife to my high school sweetheart who loves to cook, workout and stay organized! I love to share helpful printables, the best recipes and fitness tips for the modern mom. I strongly believe that every mom can feed their family well, take proper care of themselves and have fun along the way! Read my story.
Get comfortable and be sure to come hang out with me on social. Don't grab your free fitness journal before you go!