When wrapping a lot of gifts you need to have gift tags! Today I'm sharing some easy and creative gift basket ideas as well as some free printable gift tags to keep you organized this holiday season!
8 Awesome Gift Baskets that You Can Create this Christmas
If you are wanting to really make an impression this holiday season, I highly recommend creating homemade gift baskets this year! Homemade gift baskets are always a hit and you can personalize them to the recipients taste so that it will be 100% unique and 100% for them. How great is that?
If you are ready to be the hero of Christmas this year, I have put together this list of 8 awesome gift baskets that you can create this Christmas.
8 Awesome DIY Gift Basket Ideas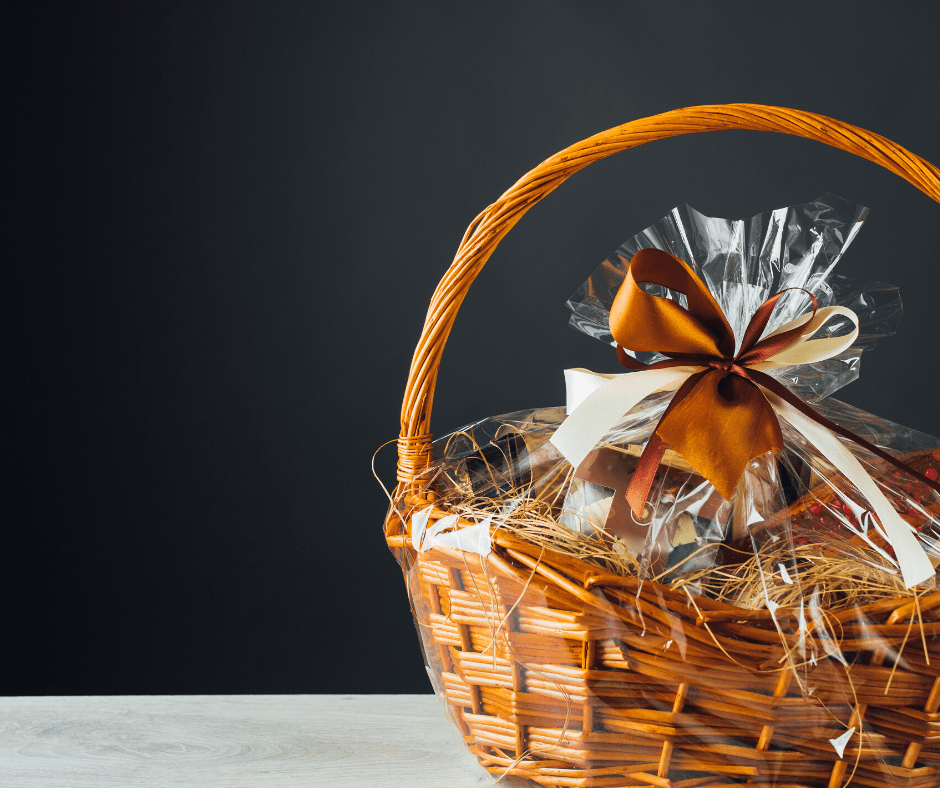 1. Spa Gift Basket
You can go to just about any store this holiday season and see a spa gift basket on the shelf, but they are all just the same. Don't get me wrong, I love these, but I really love getting homemade ones. You can add the following items to make a great bath and body gift basket:
Homemade bath bombs
Homemade sugar scrubs
Homemade soap
Bath Poof
Manicure set
Foot soak
2. Coffee Gift Basket
There are so many people out there who love coffee, it is hard to go wrong with a coffee gift basket idea. If you want to create a gift basket like this, it's actually pretty easy! The following list is items that you can often find in a coffee gift basket.
Gourmet coffee samples
Flavored espresso syrups
Coffee beans
A French Press
New coffee mugs
Hot cocoa packets
Tea
Cookies
3. Kitchen Gift Basket
If you are creating a gift for someone that loves to cook, a kitchen themed gift basket is a great idea. These are also a great gift for someone that is a new homeowner and may be in need of these items. In a kitchen gift basket, you can let your imagination run wild with kitchen gadgets and goodies, but these are some of my favorite kitchen items for kitchen gift baskets.
Kitchen towels
Pot holders
Measuring spoons
Ice Cream Scooper
Spatula
Cutting Board
4. Breakfast Themed Gift Basket
Everyone loves breakfast, right? Not everyone has the ability to take the time to make and enjoy it though. That's why I love the idea of creating a fun breakfast gift basket to help someone remember how much they love breakfast! Here are some great things to include in a breakfast gift basket.
Gourmet pancake mix

Homemade or gourmet jam

Coffee mugs

Coffee beans

Gourmet maple syrup
5. BBQ Gift Basket
We all know that person that just loves to grill. They are the ones that keep the grill out long after grilling season has passed. The great thing about a BBQ gift basket is that you can literally give this gift year after year to the same person and they will continue to love it and continue to use it since they use it so often.
Tongs
Heat resistant glove
Gourmet BBQ sauce
Gourmet BBQ rub
Meat thermometer
6. Reading Gift Basket
If you are shopping for a book lover, a reading gift basket is the ultimate gift! This gift basket probably requires the least amount of items, but will be very loved nonetheless. The following items are what I would include inside of a reading gift basket.
Cozy, soft throw blanket
Mug for coffee or tea
A new book or, if you aren't sure what book to get, an Amazon or Barnes and Noble Gift Card for them to order a new book
7. Baking Gift Basket
If you are looking for the perfect gift for someone that loves to bake, then a baking gift basket makes the perfect gift! These baskets are always a hit not only for those that love baking, but also for non-bakers, since these gifts tend to make the baking process much easier. The following are common items to add into a baking gift basket.
Oven mitt
Cooling rack
Cookie scoop
Baking mixes
Sprinkles
Cake decorating kit
Apron
8. Wine Gift Basket
Any wine enthusiast will love a nice wine gift basket this Christmas. There are just so many wines out there to try! The following are always great additions to wine gift baskets.
Wine, of course.
Corkscrew
Wine glasses
Wine bottle stopper
Free Printable Christmas Gift Tags
Of course after you build your amazing DIY gift baskets, you need Christmas Tags so they can know who they are from! Here are some great and reusable gift tags that you can print over and over again!
Click here to download your free Christmas tags!
Do you have any of your own DIY Gift Basket ideas?
Hi! I'm Nellie. I am a busy mama of three, wife to my high school sweetheart who loves to cook, workout and stay organized! I love to share helpful printables, the best recipes and fitness tips for the modern mom. I strongly believe that every mom can feed their family well, take proper care of themselves and have fun along the way! Read my story.
Get comfortable and be sure to come hang out with me on social. Don't grab your free fitness journal before you go!