Last week I was invited to learn all about sailing from North Cove Sailing School. They have a really awesome sailing camp for kids and I knew that my 7 year old would be super excited because he loves everything with a motor. Cars, Motorbikes, trucks, firetrucks–you name it, he loves it!
The North Cove Sailing School has a kid sail camp that runs for 7-16 year olds. They spend their time on the Hudson River learning how to do everything on the boat by getting hands on with certified instructors.
KIDSAIL summer camp is a great opportunity for children growing up in Manhattan to connect with the outdoors and have an awesome NYC adventure. The KIDSAIL camp is for kids ages 7-17. All experience levels are welcome and no sailing experience is required. The program is taught on our fleet of Colgate 26 sailboats. Both the US Coast Guard Academy and the US Naval Academy have fleets of Colgate 26's, they are stable, safe, and fun boats making it the perfect platform to teach sailing on.
Hanging out at Brookfield Place before our boat lesson
Jacob and I were the first ones there so we were able to grab some snacks and of course play some Jenga. We play a lot of Jenga in the Acevedo household so we were super excited to be able to play by the water.
Right next to the marina of boats there is the brand new (at least still new to me!) Brookfield Place which is conveniently connected to the Oculus which is the transit hub of the path and 10 subway lines. The new Brookfield place is beautiful, the shops are amazing and it's a truly high end mall.
Drinks, Snacks and Games at Tartinery
Towards the back of Brookfield place is where you will find a fun place to hang out with tables and tons of board games that you can rent out while you grab a bite to eat at the Tartinery.
This was our first time at the Tartinery, they have a wide range of snacks, natural smoothies and juices, and cocktails for the adults. Jacob grabbed a lemonade and some potato chips and we got ready to set sail!
Getting ready to get on the North Cove Sailing Boat
First we made sure that the kids had their life jackets on. Next we walked on a really wobbly plank out to our boat. I'm not going to lie to you guys, I was more than a little nervous. The boat was on the smaller side and it had 6 of us on it. Thankfully my nervousness started to dissipate once I realize how skilled our captains were.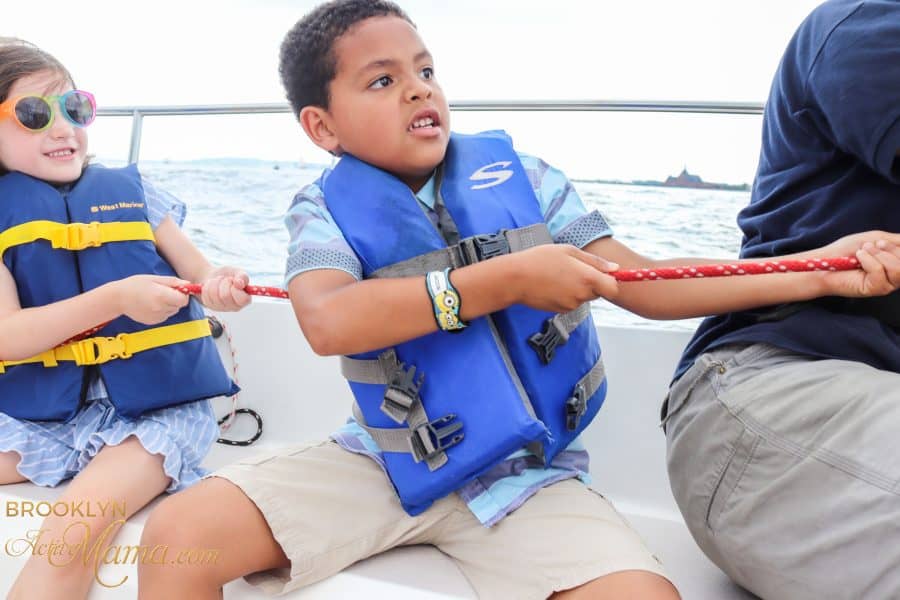 Jacob fell right in line. He was able to blow the horn to let everyone know we had left and he pulled on cords and marveled at how high the sail actually went. Our tour took us pretty close to the Statue of Liberty and he made sure to tell me how excited he was to be that close to her.
Thankfully the wind and the weather cooperated. There were a couple times when the boat took a lean and I was the only one concerned about it. 🙂 The best part though was watching my 7 year old take in the sights. He was simply overjoyed to be on the water. He was an absolute natural.
The North Cove Sailing Kids Sail Summer Camp
The summer camp runs in both half day and full day increments that are weeklong. The kids learn everything about boating and when the weather is bad they do fun activities indoors like knot tying competitions.
What I really love about the camp is that it teaches kids how to be a team player. Everyone is responsible for something. They all have to work together to sail the boat. While we were on the Hudson we got to see some of the classes in progress and the kids were so relaxed and calm. They did a lot better than I did! 🙂
Jacob immediately asked when he could come back. He had SUCH a great time. The North Cove Sailing Kids Camp is such a great way to learn about sailing, teamwork and the mechanics of boating. The North Cove Sailing staff members all have US Coast Guard Captains Licenses and are Certified by US Sailing so you know your children are in good hands. Check out the summer schedule here.
Check out this fun video of the experience!
Have you ever taken your kids boating? Do you get sea sick?