This post is sponsored by POM Wonderful.
With the holiday season approaching quickly it's time to get your holiday recipes in order! I was invited to learn all about cooking with Pomegranates with Momtrends and POM Wonderful last week and added some pretty awesome recipes to my arsenal.
The event was held in Little Italy, it was a warm night so there were plenty of restaurants with outdoor seating and many maitre d's beckoning me into their restaurants. Fortunately for me I had a pretty awesome cooking party awaiting me with my favorite blogger girls.
This was my first time cooking with Pomegranates! I've always been so intimidated by the size of the fruit–but not anymore. I was able to help create some of the most delish guacamole ever and my friends create more POM centered recipes that are so so good! Check them out below!
Appetizers and Cocktails
When we arrived there were delicious appetizers waiting for us including Moroccan Shrimp with Pom Poms:
Moroccan Shrimp With Pom Poms (10 appetizer servings)
1.5 cup Pom Poms Fresh Arils
1 lb. large shrimp, peeled and deveined, with tails
3/4 teaspoon ground cumin
3/4 teaspoon ground coriander
1/4 teaspoon ground cinnamon
3/4 teaspoon kosher salt
1.5 tablespoon olive oil
4 cups baby arugula
For the Sauce
4 cups POM Wonderful 100% Pomegranate Juice
1.5 cups sugar
1/4 cup fresh lemon juice
Directions:
For the sauce, in a pot over a high heat, stir together POM Wonderful 100% Pomegranate JUICE, sugar, and lemon juice until the sugar dissolves. Boil until liquid thickens and is reduced to one cup (approx 45 minutes).
Toss shrimp in a bowl with cumin, coriander, cinnamon, salt, and olive oil and stir to coat.
Heat a grill pan over medium heat. Add shrimp and cook two minutes per side until pink and opaque. Brush shrimp with sauce. Serve arugula on the side tossed with lemon juice and olive oil. Top shrimp and arugula with Pom Poms Fresh Arils for serving.
There were more fun and delish appetizers like this amazing bruschetta that I could not get enough off!
I love my pomegranate juice so I was excited to try the POM Wonderful mocktail! But according to my friends the cocktail was also a hit!
Entrees & Cooking
Cooking events are the best, especially when you do them with friends!!
We got stationed on the guacamole station. Since guac is my favorite this was a no brainer. We diced red onions, sliced avocados and peppers, zested lime and it was SO SO good! I am a bit of a guac snob but this one was delish!
Pomegranate Guacamole
Serves 4
2 ripe avocados, skin and pit removed
zest and juice of 1 lime
1 small red onion, finely chopped
1 large jalapeño pepper deseeded and finely chopped
1 garlic clove
minced kosher salt to taste 1/2 cup POM POMS
Fresh Arils
tortilla chips or pita chips
1. In a medium-sized mixing bowl, mash the avocado and mix in the lime zest and juice, red onion, jalapeño, garlic. Season to taste with salt. Stir in the pomegranate seeds and serve with tortilla or pita chips
Nicole's POM POMs Chicken Salad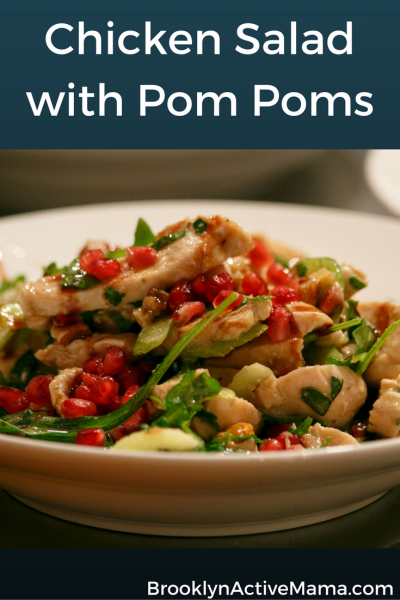 Serves 2
Salad Ingredients
1/2 cup POM POMS Fresh Pomegranate Arils
1/2 cup walnuts
1/2 cup chopped celery
1 cup sliced chicken
4 cups mixed greens (I like a little arugula mixed in)
Directions: Combine all ingredients, add dressing, toss, mix in dressing serve over greens.
Dressing Ingredients:
2 tablespoons EVOO
1/4 tablespoon honey
1/4 tablespoon mustard
pinch of salt
Directions: Combine all ingredients in a small jar and shake vigorously.
Roasted Salmon with POM POMS Salsa
Servings: 6
Time to Table: 30 minutes
1 cup POM POMS Fresh Arils
1¾ lbs (28-oz) salmon filet
½ cup chopped flat-leaf parsley
¼ red onion, sliced
1 lemon, zested and juiced
1. Heat broiler to high with rack 6 inches below broiler. Season salmon with sea salt and pepper. Place salmon on a foil-lined pan and broil until cooked through, 12 to 15 minutes.
2. Stir together the POM POMS Fresh Arils, parsley, garlic, lemon zest, lemon juice, 2 tablespoons olive oil and ¼ teaspoon sea salt. Spoon salsa over salmon to serve.
Additional serving suggestion: Spoon POM POMS Salsa on top of toasted baguette slices to make a bruschetta appetizer.
Stuffed Quinoa Squash Recipe
Servings: 4
Time to Table: 1 hour and 15 minutes
1 cup POM POMS Fresh Arils, plus more for garnish
2 acorn squash
11⁄2 cups quartered Brussels sprouts
11⁄2 cups wedged onions
11⁄2 cups diced eggplant
1 cup diced mushrooms
2 tablespoons olive oil
1 teaspoon kosher salt
1/4 teaspoon black pepper
1/3 cup dry quinoa
1. Heat oven to 400F. Microwave acorn squash until soft enough to cut, about 15 minutes. Cut in half stem to tip, and scrape out seeds. Place on a roasting pan and place on the upper third rack of the oven. Roast until tender, about 40 min.
2. Meanwhile, toss together the Brussels sprouts, onions, eggplant, mushrooms, olive oil, salt and pepper and spread out on a rimmed baking sheet. Place on the lower third rack of the oven under the acorn squash. Roast until tender, about 35 min.
3. Toss roasted vegetables with quinoa, feta, POM POMS Fresh Arils and half of the red wine vinaigrette. Spoon into acorn squash. Sprinkle with extra POM POMS Fresh Arils and serve extra vinaigrette.
RED WINE VINAIGRETTE
2/3 cup crumbled feta cheese
1/4 cup red wine vinegar
1/2 teaspoon thyme, chopped
4 tablespoons olive oil
Pinch of salt and pepper
1. Whisk together 1⁄4 cup red wine vinegar, a pinch of salt and pepper, 1⁄2 teaspoon chopped thyme and 4 tablespoons olive oil.
Have you ever cooked with Pomegranates before?
Hi! I'm Nellie. I am a busy mama of three, wife to my high school sweetheart who loves to cook, workout and stay organized! I love to share helpful printables, the best recipes and fitness tips for the modern mom. I strongly believe that every mom can feed their family well, take proper care of themselves and have fun along the way! Read my story.
Get comfortable and be sure to come hang out with me on social. Don't grab your free fitness journal before you go!