The 10-minute Buff Bride Arm Workout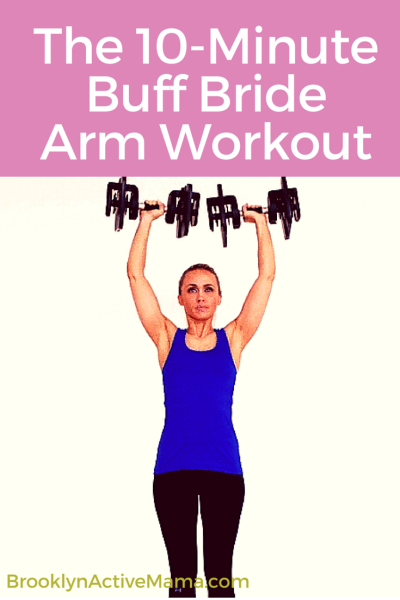 This weekend I am going to one of my dear cousins wedding. I am SO excited for this event…I am literally counting down the hours. ALL of my amazing girls cousins who are like sisters to me will be there and there will be lots of food, fun, laughs and just extreme happiness. 
Preparing for her wedding brought me back to the borderline extreme fitness measures I took when I was getting ready for the big day 9 years ago. I exercised twice a day, ate clean and got to my lowest weight in my adulthood. 
I vividly remember my arms being the main focus of my workouts. Since my dress was a strapless princess ball gown, I knew all eyes would be on the guns!
Today I'm sharing The 10-minute Buff Bride Arm Workout. The awesome peeps over at Bowflex shared some amazing gifs that demonstrate exactly how to do the moves. Enjoy!
Exercise physiologist and Bowflex Fitness Advisor Tom Holland developed the following strength training workout for brides who are ready to get toned before the big day. Holland recommends completing the above moves in 2-3 sets of 10-15 repetitions for a circuit-style workout. For maximum results, complete the workout three times each week on non-consecutive days. Be sure to use weights that are more challenging for the last few repetitions.
Chest Fly

Row/Tricep Kickbacks

Overhead Press

Dumbbell Curl
What are your favorite workouts for sexy arms?
For more great workouts be sure to check out the below links!
Got Muscle? 9 Beginner Strength Training Routines For Women
7 Best Strength Training Exercises for Women Over 35
Before you go don't forget to grab your free Fitness Journal Health Goals Tracker here!