Since I wake up in the morning with just enough time to get myself ready–I don't make myself breakfast at home, like ever.
The breakfast choices in NYC are endless. There is deli after deli right next to each other trying to outdo each other on the biggest and baddest breakfast for the cheapest price. (I wish lunch was this way!!)
These choices can get super overwhelming sometimes. I remember when I first started at my job 7 years ago, I used to follow the crowd and get loaded sandwiches, platters or even just a plain bagel with butter.
It would do its job and fill me up but it did nothing for me nutritionally.
The Protein Fight Club promotes getting your day started with a glass of Milk, there are 8 grams of quality protein to keep you filled up plus all of the awesome nutrients that are packed in one glass!
Since the weather has turned chilly, I've been making my oatmeal at work. I am not a fan of water with oatmeal, I drink it with Milk only! It's the only way my mom made it for me, and I can't have it any other way. The cool part about that is that I get all the good stuff from the Milk AND the oatmeal! Win win!
Another yummy way to start your day off is with this yummy smoothie recipe. I tried these when I went to Interview Stephanie McMahon and Triple H for the protein fight club and it was delicious!
Protein-Packed Berry Burst Smoothie

Directions

Combine first five ingredients in the carafe of a blender. Cover and refrigerate overnight. In the morning, blend the mixture until smooth. Top with chopped walnuts.

Makes 1 serving (4 ounces milk per serving)
Ingredients
1 packet – plain instant oatmeal

½ cup – fat free or lowfat milk

½ cup – strawberries, hulled, chopped

1 tablespoon – honey

1/8 teaspoon – ground cinnamon

1 tablespoon – walnuts, chopped
There are also some more yummy recipes: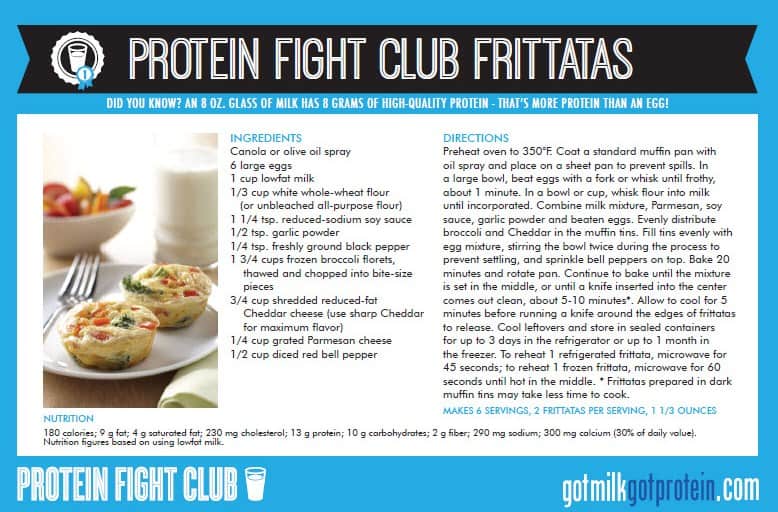 This concludes my posts for the Protein Fight Club. Sad, because I had a blast talking about one of my favorite beverages!
What is your favorite breakfast?
Do you like the recipes?
Do you eat breakfast right away or do you wait a while after you wake up?