Weekly Wednesday Workout: Stability Ball V Up Exercise
This one is for the abs again! We have done some varieties of sit ups but this is the first one we will do with the stability ball!
httpv://youtu.be/cKOvOukbGW4
There is a similar exercise that I am doing in Week 7 of Jamie Eason. This one is tough!! If you don't have a stability ball you can use a dining room chair or lay at the bottom of your stairs for some leg elevation. I like the advice that she gave, if you have back issues don't try! Otherwise go for it, and do it until your ab muscles tire, which is like 3 for me LOL. I like this move though because its one of those deep core moves that you can't deny works!
Still participating and jumping back into Joi's Blog Party–Today's theme is Humor so I am sharing a few of my favorite funny commercials!
httpv://youtu.be/2_JQxm53114
httpv://youtu.be/wguSXbUe2hw
And because I couldn't resist!!
httpv://youtu.be/kWBhP0EQ1lA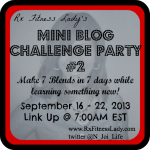 Have you ever tried a Stability Ball V Up Exercise? Which commercial is your favorite?