Today I am joining in on Joi's Blog Challenge and the topic for today is Confessions of A Blogger, I have many confessions but this one is a pretty big one. This post actually covers tomorrow's topic as well because it may be a bit of a "controversial post". Join in on the fun by linking up here!
Confessions of a Blogger
I have been in the "game" for over 2 years now but I have been lucky enough to get a lot of invites to fun and fabulous events for bloggers. There is one thing that drives me totally nuts—
I can't stand shady bloggers.
Definition of shade according to Urban Dictionary:
Can be used as a noun or verb.Noun form = illegitimate behaviorVerb form = typically accompanied with the word "throw" or "throwing," as in to "throw someone shade" meaning to act shady, fake, or funny around or towards them.
Person 1: They went to the club and ain't even invite us! 
Person 2: Shade!
There were times, many times last year when I was the recipient of so much shade. At the time I really didn't recognize it for what it was. I was so nervous to attend my first blogger conference I stayed up the whole night with anxiety.
My first instance of blogger shade came at BlogHer12, I was so excited to meet a lot of my favorite bloggers, so at HealthMinder day when I sat down at the same table with a very very well known blogger, I started small talk with her. The entire time she couldn't keep her face out of her phone (I get it we are bloggers, our faces are always in our phones, but this was super obnoxious–she never looked at me) maybe it was my outfit, but the woman barely spoke 2 words to me. I was floored. My "image" of her was shattered and every time I heard her speak I cringed.
That was my first encounter with IRL blogger shade.
That wasn't the only time! I really started getting a lot of invitations for events in March of 2013. So it's only natural that you start to see the same people over and over. At one particular event, I was introduced to another blogger by a close blogger buddy.
I said hi, gave her the pearly whites and started small talk like I always do. She dismissed everything I said to her. She was only talking to my girlfriend and every time I tried to interject she threw me a look like "why are you talking to me?" I was quite stunned. I don't even think it was anything against me, I think she saw a new face in her very elite small circle and she was a bit intimidated by me. Which was a shame because she didn't even give me a chance!
I've seen her at several events since and she has never once said hi. I smile at her (I don't even know why I do at this point…) She was even at a event with my kids and she was alllll over them but never uttered a word to me. (I don't think she realized they were mine since they were with my husband)
Blogger shade will be all over every event, from small meet ups to huge conferences,  the trick is to not let it phase you. Do what you came to do, make new contacts, talk extensively to the host, enjoy the event! Blogger shade is so real, even for a person like me who is very open and friendly. I went from sitting in the corner praying no one approached me to seeing someone sitting alone across the room and introducing myself.Yes, we all are on different levels of blogging, some more successful some less. We are all coming from the same place so there should be nothing but support! 90% of all bloggers I meet are open, warm and friendly. That 10% however?! SHAAAADDDDDDEEEEEE! LOL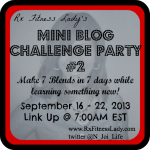 Have you ever encountered Blogger Shade whether it be IRL or in the interwebs?