noosa yoghurt Steps Up Flavor With New Sweet Heat Line!
Last week I was invited to The Brooklyn Kitchen for a fun event celebrating noosa's new sweet and spicy flavors. I was a bit scared because I am not all that adventurous when it comes to eating—between my allergies and my plain dislike for entire food groups I was very worried that this even would push me way out of my comfort zone.
You may remember when I visited The Brooklyn Kitchen late last year for the Buick event. I can't believe this is only my second trip back but I was happy to return. The space is so beautiful and was transformed specially for noosa yoghurt.
When I arrived there was a mixologist mixing cocktails for all the guests, I didn't partake because there was no virgin drinks, but I can vouch that everything LOOKED good.
Next I headed over to the charcuterie station where there was plenty of sweet and spicy snacks—as I mentioned before I was a wee bit petrified to try all of this flavor but I bit the bullet and tried a small slice of toast with jalapeño jelly. The flavor explosion was immediate and the heat followed right after. I am surprised to say that I didn't mind it, it was pretty incredible. It wasn't a situation that had me running for an entire jug of milk but it was a manageable tasty bite. This gave me confidence to jump in and try the new noosa flavors without any reservations.
The Noosa Yoghurt Sweet & Spicy Bar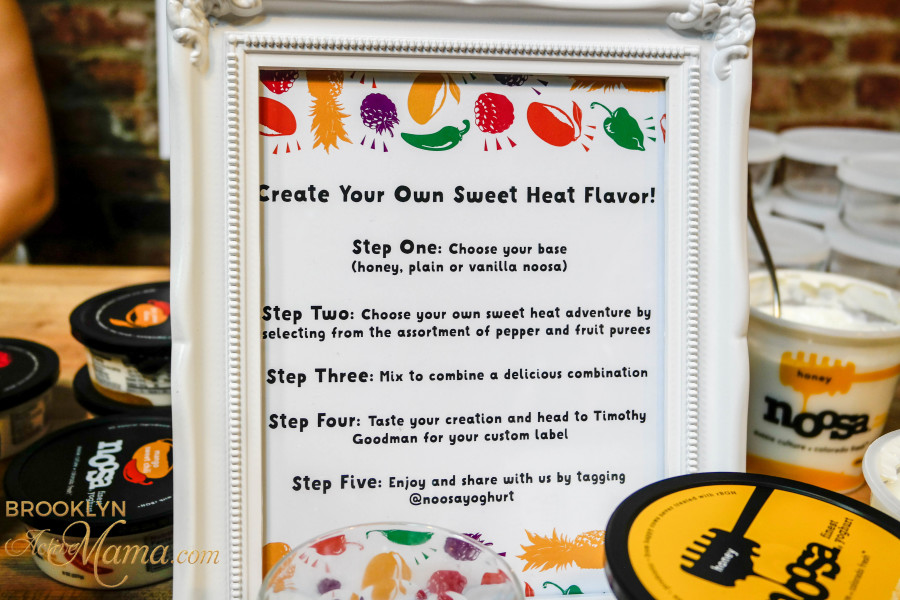 There was a noosa yoghurt bar set up with plenty of flavors of yoghurt, fruit purees (which are like my favorite thing in the world) and spicy elements to put on top. For my first creation I put pineapple puree, mango puree, strawberry rhubarb puree with a dollop of vanilla noosa yoghurt and a generous amount of chili oil. I didn't know what I was doing, there was absolutely no rhyme or reason—
IT WAS SO GOOD.
I ate it really (and quite embarrassingly) fast, something about the fruit and the noosa yoghurt calms kick of the chili oil. The combination was quite fun and I couldn't believe that I actually enjoyed it so much. So I did what anyone else would do, I made another to take home. This time with a really awesome labeled container from the artist on site. My husband is really into adult coloring but I think I will keep this one for myself. 🙂
The Lamb Chops From Heaven
Honestly I'm not that much of a lamb chop girl. I've had it once or twice in my lifetime and I've never made it at home. That ALL changed on this day. We had a professional chef show us that you can actually marinade lamb chops (or pork) in noosa yogurt and the result is pretty much out of this world.
He wasn't kidding. The lamb chop was hands down the best I've ever had (yes in all three times!) and everyone who tried it agreed that it was the most tender and delicious piece of meat they have ever had. It was phenomenal! Now I need to try this at home. IMMEDIATELY!
Noosa Yoghurt Sweet & Spicy Flavors
Raspberry Habanero
Pineapple Jalapeno
Mango Sweet Chili
Mexican Chocolate
and Bhakti Chai (which is limited for the season!)
For more information on the new noosa yoghurt sweet heat line, check out the website here!
[Tweet "The new @noosayoghurt Sweet Heat line is SO good, the perfect mix of sweet and spicy! #noosasweetheat"]
Are you a fan of noosa yoghurt? What is your favorite sweet and spicy combination?