Bloggy Boot Camp Charlotte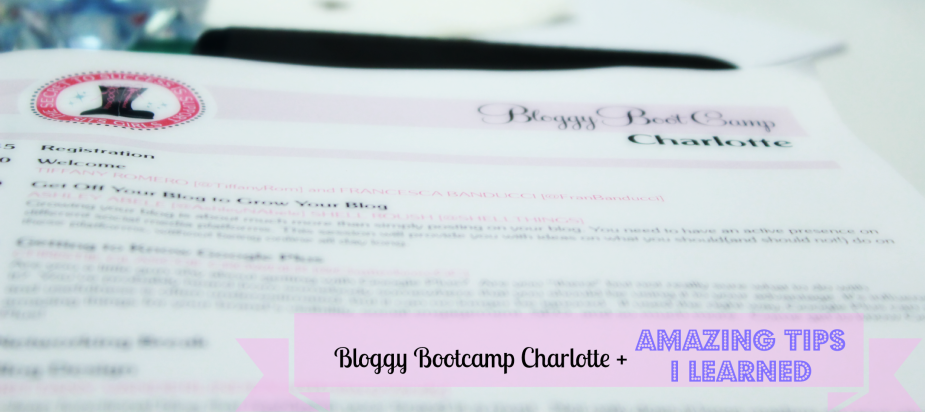 Shortly after my SITS feature day earlier this year, I decided to go to Bloggy Boot camp Charlotte. It was a fantastic decision, I learned so much. I think I am entering a danger zone when it comes to learning about blogging. It's like I'm attending Blog University or something. It's all fun–until I get graded.
I took a very quick under 90 minute flight to Charlotte and arrived at the doubletree with exactly 15 minutes to spare. I was greeted by Tiffany who instantly recognized me (!!) And gave me my name badge without me having to say who I was. (Trust me if you ever want to be known by someone, its Tiffany Romero!)
After that, I met The Dose Girls, Michelle (who I met a few weeks ago), My blog sister from another mister Joi, and a few more people.
Bloggy Boot Camp Charlotte Sessions
We got into the program right away with a session on social media. Here are some of the highlights:
Facebook:

You have to be present on Facebook with a Fan Page. Try to interact with at least 3 forms of media (quote, picture, link, funny anecdote etc.) Per day. (

I am terrible at this, Facebook is not my favorite platform, but I'm working on it)
Twitter:

Follow people back! Also create hashtags in hootsuite for topics relating to your blog. The best piece of advice about Twitter was actually really smart and it basically said for every one tweet promoting yourself you should have 8 non self promotional links!

Pinterest

: People love big beautiful pictures. It doesn't have to have words on it, it really just has to be pretty. ALWAYS pin from your blog.
SEO
After that we got in SEO, my mind was still pretty blown away from the last boot camp session, but again I learned more, here are three important tips:
Pay attention to your top content, what are people engaging with on your site?

Re-share

popular posts, often.

Make more: do posts similar to your top shared and tweeted content, keep those readers around–simple, but makes total sense!

Think like a reader: use keywords that you think your targeted reader would be searching for in Google. The more specific the better!
Blog Design
Next we had an amazing sesh on Blog Design and here are some tips I learned:
Try for under 10 main categories (I am terrible at this) it helps your reader find what they need quickly

Picture this: A huge mistake in blog design is not enough pictures! People like pictures (big ones) so make sure you include them in the blog posts.

Break up your paragraphs, too big paragraphs make you seem like a robot! (Oh and make sure you are using at least a 14pt font!)
We broke for lunch and I giggled and got to know my new tribe member Denise as well as a bunch of awesome bloggers. Of course there was only chicken on the menu and y'all know I don't got time for that so I picked at a vegetarian dish of potatoes and grilled zucchini which wasn't terrible.
All was not lost however because the wonderful sponsors Salsaritas provided us with a full Mexican spread of nachos with all the works. I didn't eat much but I wanted to!
Photography
We had a few more sessions and finally we had the one I was waiting the most for, photography! The cool part about this was that we received a quick but extremely valuable tutorial in PicMonkey.
Here are my fav tips:
PicMonkey is your best friend. Use it. Be sure to save it as .png when you use words…it simply looks better.

Always center pictures and know your widths before posting.

Group pictures together it is visually more appealing.
After an amazing day we ended the night with a fabulous cocktail party sponsored by Mirrasou. It was so nice hanging with bloggers I knew and getting to know a few more. 🙂 After a while, I called it quits, headed up to my hotel room got some room service and called it a night. 🙂
I shot a vlog on some more things I loved about Bloggy Boot camp Charlotte including comparing it to other conferences and whether or not I would go back again. See the vid here 😉
Would you attend a Bloggy Boot Camp?