Fitness Magazine Blogger Meet and Tweet
Last week, I was extremely lucky to get an invite to the Fitness Magazine Blogger Meet and Tweet held on the west side of midtown in NYC.  I was so excited to be able to hang out with other healthy living bloggers plus see some of my favorite girls from fitbloggin. If you follow me on Twitter then you saw me tweeting away with reckless abandon with the hashtag #fitblognyc.
When I tell you that I was so excited for this conference, I couldn't barely sleep the night before? Last year I remember watching those #fitblognyc tweets wondering how did I not know about this? Why wasn't I invited?! *cues "started from the bottom"* lol!
I arrived at the club to find my girl Patty from Enjoying This Life. I was early. 🙂
Once we got in we were given our press passes (!!) Some breakfast, and went out to the very beautiful and spacious rooftop area.
Side note: I have never ever ever been so impressed with a gym. The Mercedes club has an outdoor pool, outdoor yoga classes, machines for days, smoothie stations, and the facility is simply spotless. Dear universe, I need a membership to that gym. Let's make it happen. Thanks.
Once everyone arrived it was time for the sessions to begin.  There were lots of different sessions which will be covered in the upcoming weeks in separate posts. The information was just too good to squish it into one recap post. I didn't bring my industrial sized notebook for nothing! So stay tuned for makeup tips from a Stila makeup expert, interviews and tips from some of the biggest bloggers out there and interviews from both Brett Hoebel from The Biggest Loser and the drool worthy Rocco Dispirito!  *swoon*
After that it was lunchtime and there were some very very healthy choices to choose from. I ended up drinking a smoothie.  After that it was off to the sponsors!
The first place I stopped was at Reebok. I couldn't help it, the neon called to me! They were amazing enough to give us a pair of sneakers in our swag bags. Oh Reebok,  you sure know the way to this bloggers heart.
Then I went over to Vichy who had a great product for cellulite and stretch marks. I was over there because my belly is desperate for tightening after baby #2!
Aliah from The Get Fit Diva and I took some poses for some free peanut butter from smart balance. You can't see but we were on the BOSU ball the whole time!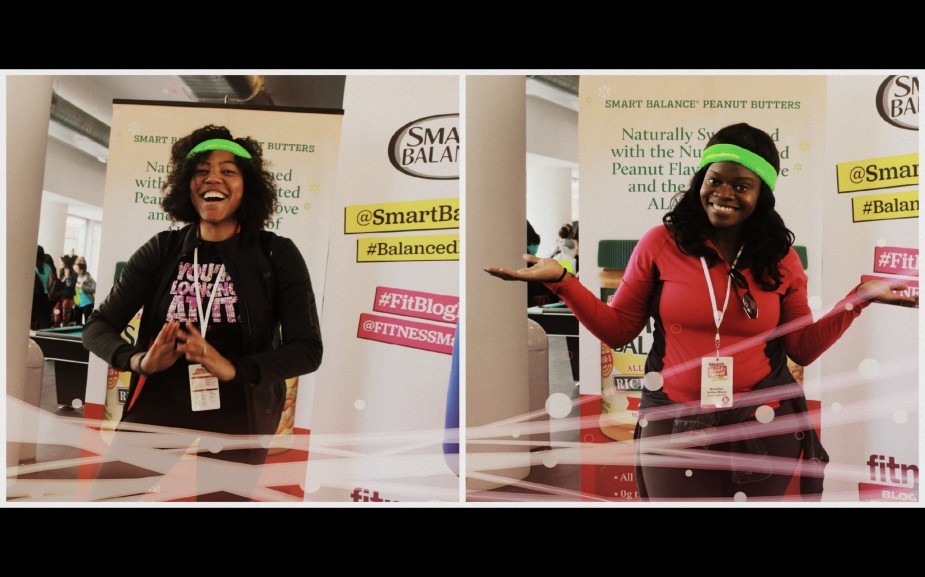 Next I dropped by Athleta and they have a beautiful line of workout clothes coming out this fall and we got to lust after peruse them.
After that I went to Saucony, where amazingly enough they were giving out ANOTHER  pair of sneakers! And to my excitement they were green, Zumba green! Yes! I'll be honest it took a lot for me not to give the sneakerman a big hug. I was that excited.
Finally we ended up by the Ford Fiesta Movement both and I got to take these hysterical gifs with Christine from  Love Life Surf and my Blogalicious roomie Lia.
After that I got a bit of downtime and then we were off for the Mad Cool Fitness Cardio Dance class. We worked  so hard! We squatted so much I thought my whole toosh was going to fall off! Jen Turner is the truth!
We all retreated to the locker rooms to organize the insane amount of swag, and we went home. All in all I was SO humbled and excited to be invited to be a part of such a wonderful event. The Fitness Magazine Blogger Meet and Tweet was an even that I couldn't even have imagined 2 years ago when I started blogging. Thank you Fitness Magazine for the opportunity!
 Has anything really special happened to you recently that you want to share?